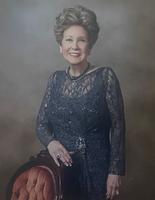 Barbara Latiker Jacobs, of Montgomery, Alabama, passed away peacefully on July 31, 2023, at Towne Club Windermere in Cumming, Georgia. Barbara was surrounded by very special friends. She was preceded in death by her parents, William Edward Latiker and Wynette B. Latiker, as well as her beloved husband of 63 years, Dr. William Donald Jacobs.
Barbara Jacobs was an outstanding graduate of Sidney Lanier High School, where she received numerous awards for achievements including; Most Likely to Succeed, Who's Who 1951-1952, and the Good Citizenship Girl award in 1952, which is one of the highest honors based on leadership, dependability, patriotism, cooperation, and willingness to serve as a representative at the Statewide Convention sponsored by D. A. R. Barbara was also voted Friendliest, Most Intellectual, and Ideal Senior Girl. She also served as Secretary of her Junior Class, a Red Cross Representative, President of the Future Teacher's Club, Sigma Tri Hi-Y President, Associate Editor of the Oracles, Student Council, and President of the Glee and Marshall Club.
After graduation from Sidney Lanier High School and Troy University, she taught Algebra and English in high schools in Mountain Brook, Alabama, and Pensacola, Florida. Barbara lived in Pensacola from 1959 to 2005, where she was a member of the Pensacola Symphony Orchestra Guild, and Pensacola Country Club, and even served as the President of the Pensacola Dental Auxiliary. Barbara then relocated to Montgomery, Alabama with her husband, William Jacobs. Upon moving to Montgomery, she became a member of First United Methodist Church, the Tower Sanctuary Sunday School Class, and was also a member of the PEO (Philanthropic and Educational Organization), Montgomery Symphony Orchestra League, and a former member of Wynlakes Country Club.
Barbara's greatest love was for God, her family, teaching, and volunteering within the community. She traveled extensively throughout the years. Barbara strived for knowledge wherever she visited. She was truly viewed as the epitome of a gracious, elegant, and absolutely beautiful lady.
Barbara Jacobs is survived by her three children, Deborah Jacobs Foley (Mike) of Tampa, Florida, Ronald Edward Jacobs (Jennifer) of Cumming, Georgia, and Bruce Alan Jacobs (Mary Beth) of Boca Raton, Florida. Survivors also include two granddaughters, Anne-Marie Jacobs of Athens, Georgia, and Peyton Michelle Foley of Tampa, Florida; step-grandson, Dane Michael Kris (Dana) of Boca Raton, Florida, and great-grandson, Beau, of Boca Raton, Florida.
In lieu of flowers, please donate to:

Stegall Scholarship Fund
2416 Cloverdale Park
Montgomery AL 36111

First United Methodist Church of Montgomery

or charity of your choice.
Friends are cordially invited to a funeral service for Barbara Latiker Jacobs on August 12 at 1:30 PM, which will be held at Alabama Heritage Funeral Home and Cemetery, 10505 Atlanta Highway, Montgomery, AL, 36117.
Following the funeral service will be a private graveside service for immediate family only.
https://www.dignitymemorial.com/obituaries/montgomery-al/barbara-jacobs-11400480