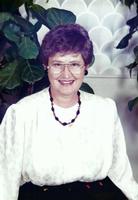 On December 31, 2022, at 7:00 p.m. Ann Eckelbarger went peacefully to join our Heavenly Father after long two-plus years of receiving care at an assisted living facility. She could not walk during her stay at Celeste Care. The staff took excellent care of her around the clock.
Ann was born in Montgomery, Alabama on May 23, 1934, the daughter of Willie Lucile Fannin and John Bonner. She graduated from Lanier High School in Montgomery and attended Huntingdon College in the city, where she majored in History. After graduation, she taught fifth grade in the Montgomery city school system for three years.
In the early 1960s, Ann joined the Red Cross and requested an assignment to Europe. She ended up in Korea with the 7th Infantry Division in charge of a Red Cross Recreation Unit. Her unit went out to units training in remote areas or at home stations in their mess halls to give them donuts and fresh coffee along with news from home, songs, and games. This unit and others provided services to American armed forces stationed overseas. It was near the end of her Korea tour that she met her future husband, 2nd Lieutenant Donald Eckelbarger. He had just arrived after graduating from West Point to begin a one-year tour with the US Army's 7th Division. Ann was assigned to a stateside unit and left Korea. After a few months without Ann nearby, he called her in Pensacola and proposed. She said "yes" and with both families present they were married in Montgomery, Alabama on July 8, 1961, and shortly departed for their first of many more military moves to come in the next 32 years.
Following the wedding, they traveled to Ft. Bliss, Texas. While living there, Ann taught school for three years. She enjoyed that very much. Following the Ft. Bliss assignment, she served on many bases in the United States and Germany. This activity included 4 tours of duty in Germany and three in the Pentagon. She was strong and loyal while helping the family relocate 28 times during Don's Army career. Heard around the house on many occasions was a favorite warning like, "Here comes the moving truck again."
Above all, Ann valued her children David and Robert and her grandchildren Christine, Alexandra, David, Johnny, Julie, and Megan, and especially her 61 years of marriage to Donald. When Donald retired in Horseshoe Bay, Texas, Ann continued her volunteering spirit mostly for the Church at Horseshoe Bay.
She is preceded in death by both of her loving parents Willie Lucile Fannin and John E. Bonner of Montgomery, Alabama.
A graveside service will be held on Thursday, January 19, 2023, at 1:15 p.m. at the Ft. Sam Houston National Cemetery in San Antonio, Texas.
Online condolences may be made at: www.clementswilcoxfuneralhome.com
Published by The Highlander from Jan. 13 to Jan. 27, 2023.
https://www.legacy.com/us/obituaries/highlandernews/name/ann-eckelbarger-obituary?n=ann-eckelbarger&pid=203652946&fhid=10810&utm_source=MarketingCloud