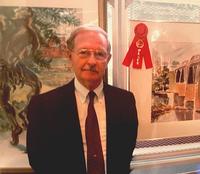 AUGUST 26, 1932 – OCTOBER 23, 2022
Leak Memory Chapel
Joseph Alvin Stone, Jr., 90, of Deatsville, Alabama passed away peacefully surrounded by family on Sunday, October 23, 2022. He was born in Montgomery, Alabama on August 26, 1932. Joe was a dedicated husband and loving father with a kind and gentle spirit. He graduated from Lanier High school in 1951 and received his B.A. from Auburn University in 1955 with a degree in industrial design. Joseph was a member of the Delta Tau Delta fraternity. He proudly served in the U.S. Army as First Lieutenant from 1956-1958 and was stationed in Gonsenheim, Germany. He was a tank platoon leader with Company D, 67th Tank Battalion of the Second Armored Division.
Joseph worked as an illustrator in his young career and was part of the exciting space program and supported the artwork and illustrations for rocket engineers with the Army Missile command. Living in Cape Canaveral, Joe and his wife, Junera, experienced many space launches including Alans Shephard's first launch in space in 1961.
He started Stone Piano Company in 1972 with his father and brother -David Stone. Joe was a well-known Montgomery artist and member of the SACS Gallery with artwork commissioned by many around the State of Alabama and beyond. He was also a member of Memorial Presbyterian Church and an ordained Deacon.
He was preceded in death by his mother, Martha Elizabeth Boatwright Stone; his father, Joseph Alvin Stone Sr.; his beloved wife, Junera Reese Stone; his brother, John Austin Stone; and his brother, David Lee Stone. He is survived by his son, Jerry Reese Stone, and his wife Monica; his daughter, Jennifer Wynne Stone Dingman, and her husband David; his Grandchildren: Savanna Stone, Elizabeth Stone, Cody Dingman, Hanna Dingman, Zachary Dingman and great-grandchild, Easten Dingman.
A visitation will be held at Leak Memory Chapel in Montgomery, Alabama on October 26th beginning at 1:00 PM followed by a graveside service at 2:00 PM in Greenwood Cemetery with Pastor Shane Russell officiating.
Pallbearers: Jerry Stone, Will Reese, David Dingman, Cody Dingman, and Zachary Dingman
A special thanks to the staff of Community Hospice Care for their compassion and care during such a difficult time. Memorials can be made in his memory to Community Hospice Care, 805 Friendship Road, Tallassee, AL 36078
https://www.dignitymemorial.com/obituaries/montgomery-al/joseph-stone-10979397