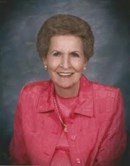 Barbara Stallings Dean, 84, of Montgomery passed away on Monday, July 3, 2017. Mrs. Dean was preceded in death by her parents, Frank and Fannie Mae Stallings; her first husband of 17 years, Harold E. Moody, and her second husband of 37 years, G.C. "Bo" Dean. She was also predeceased by three brothers, Dan, Wayne (Joe), and J.F. (Tobe) Stallings and one sister, Frances Little.
She is survived by 5 children: Cyndi (Norman) Arnold, Montgomery; Steve (Holly) Moody, Phoenix, AZ; James (Kathy) Moody, Demopolis; Mary (Ben) McDavid, Montgomery; and Ann (Tony) Rogers, Auburn; eleven (11) grandchildren, twenty-two (22) great- grandchildren, and three (3) great-great-grandchildren.
Mrs. Dean was an active member of Eastern Hills Baptist Church, where she served on the Senior Adult Council. She was an avid card player at the Crump Senior Center.
Funeral services will be held Saturday, July 8, at 12:00 PM at Eastern Hills Baptist Church with Dr. Rick Marshall and Rev. Larry Armstrong officiating. Family members will receive visitors from 10:30AM-12:00 PM at the church. A graveside service will follow in Greenwood Cemetery.
Pallbearers will be grandsons, Troy Arnold, Cullen McDavid, Dean Rogers, Mike Rogers and nephews, David Little, Rick Stallings, and Jeff Stallings.
Honorary pallbearers will be Joan and Hardy Kirk, Peggy Agent, Russell Lackey, and the members of the Hurley Sunday School Class.
Flowers will be accepted or donations may be made to Eastern Hills Baptist Church.
Published in the Montgomery Advertiser on July 7, 2017.