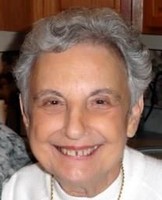 Miriam S Levitt, 82, of Cocoa, FL passed away peacefully on Saturday, January 16, 2016. She is preceded in death by her husband, Harry Levitt.
Born in Montgomery, Alabama on November 18, 1933, she was a loving and caring wife, mother, grandmother, great-grandmother, sister and friend, she will be forever missed by her family and friends. She always put her family's needs first and enjoyed being involved in and supporting her grandchildren's extracurricular activities.
Miriam is survived by her sons, Jeffery (Janet) Levitt, Michael (Amy) Levitt and Robert (Stephanie) Levitt; her grandchildren, Ashley, Eric, Andrew, Jennifer, Bryan and Julianne; her great-grandchildren, Ryan "RJ", Alysia, Joseph and Ryleigh; her brother, Alfred (Dee) Shemaria.
There will be a graveside service held at 11am on Tuesday, January 19, 2016 at Florida Memorial Gardens 5950 South US Highway 1, Rockledge, FL.
In lieu of flowers donations may be made to Hospice of St. Francis at www.hospiceofstfrancis.com