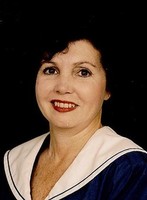 Gene Douglass, age 84, of DeFuniak Springs, Florida passed away Thursday, April 20, 2017, at her residence. She was born December 27, 1932, in Port Arthur, Texas to Edward Carlisle and Lilly Mae Langhum. She is preceded in death by her parents; one son, Charles Milton Smith IV, and two sisters, Mae and Betty.
After graduating from Sidney Lanier High School in Montgomery, Alabama, she attended Huntington College and then became a missionary with Wycliffe Bible Translators where she served two years in Australia, two years in Kenya, and completed her missionary work with two years in Colombia, South America. Gene moved from Montgomery to DeFuniak Springs in 2000 where she remained faithful in her service to the Lord by hosting ladies Bible studies in her home. She was a devoted member of the First Presbyterian Church of Niceville for the past twelve years. Gene was a woman of great faith and a loving wife and mother; she was a godly woman, a living example of Proverbs 31: 18-31.
Gene is survived by her loving husband of 36 years, Angus Gillis Douglass III; five children, Angus Gillis Douglass IV of DeFuniak, Laura Hope Abbott and husband Sam of Pensylvania, Britton McConell of DeFuniak, Callie West of Michigan and Amelia Gene Douglass of DeFuniak, Ellen Smith-Hughes, Emmett Parker Smith, and Susan Smith Roberts all of Montgomery, Alabama; twelve grandchildren; ten great-grandchildren; and one brother, Rev. Edward Carlisle Langhum, Jr and wife Jan of Chattanooga, TN.
A celebration of Gene's life will be held Sunday, April 23, 2017, in the chapel of Davis-Watkins Funeral Home, 1474 Highway 83, DeFuniak Springs, Florida 32433 beginning at 3:00 P.M. with Pastor Joe Grider officiating. A time of visitation will be held one hour prior to the service.
Flowers are being accepted or donations may be made in Gene's memory to:
The First Presbyterian Church
of Niceville Building Fund
1800 John Sims Parkway
Niceville FL 32578
Emerald Coast Hospice
340 Beal Parkway NW Suite C
Ft. Walton Beach FL 32548