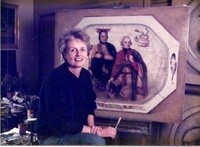 Helen Hatch Means, a professional fine arts painter, mother, sister, daughter and friend died peacefully on December 18, 2014. Helen was born in Montgomery, Alabama, the daughter of Edwin & Helen Hatch, in 1933 and resided in Atlanta, Ga. from 1972 to present.
She received her formal training at Mary Baldwin College, Huntington College, and the University of California, Santa Barbara. She studied portrait painting under the direction of Mr. Furman Finck, New York City, and spent three years at the Tyler School of Fine Art, Philadelphia, Pennsylvania. Here she gained insight into the use of color and perspective as prime elements in painting and her works illustrate great respect and admiration for the Old Masters.
Helen served on the board at the High Museum of Art, Atlanta, had many one-man shows and exhibits in galleries throughout the Southeast, in addition to gracing numerous private collections.
Helen was an original, with countless friends, one of which said, "she stood out among all of us." Helen was extremely talented, accomplished and gifted, but also possessed an unforgettable personality. Irreverent, authentic, independent, strong willed, with a great sense of humor. Her favorite holiday was Halloween. She was athletic, playing QB on her Sidney Lanier powder puff team, in addition to being a skilled golfer, tennis and bridge player. She was beautiful, taking the May Queen crown at Mary Baldwin, but was most comfortable in sweatshirt, jeans and bare feet.
Helen is survived by her sister Carolyn Hatch Malone and brother-in-law John Malone of Atlanta, Georgia, brother Edwin Hatch and sister-in-law Trudy Hatch of Bainbridge Island, Washington, children Mary Means Morant of Darien, Connecticut, Carolyn Means Esberg and husband Mike Esberg of Leawood, Kansas, Christopher Means and wife Ella Means of Atlanta, Georgia, and seven grandchildren: Charles, Lukas and Kate Morant; Jack and Frank Esberg; Hatch and Bailey Means.
A private family service will be held Monday, December 22, 2014. The family invites friends and family to a Celebration of Helen's life at the Piedmont Driving Club on January 16, 2015 from 6 to 8 o'clock.
In lieu of flowers, donations may be made to:
Atlanta Humane Society
Attn: Memorial Department in honor of Helen Hatch Means
981 Howell Mill Road NW
Atlanta Georgia 30318
404-974-2876
www.atlantahumanesociety.org
Published in the Montgomery Advertiser on Dec. 20, 2014.