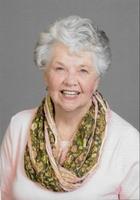 Dorthay Gyene Glass Blevins (born April 3rd, 1933) passed away on February 8th, 2022 at age eighty-eight at her home in Montgomery, Alabama. Dotty was born in Owens Cross Roads, Alabama to Willie Buford Glass and Earl William Glass. She had two sisters, Ida Brightwell (deceased) and Dora Grimm (John).
Dotty, affectionately remembered as "Meme" by her grandchildren, was a 1951 graduate of Sidney Lanier High School in Montgomery. Dotty pursued a career in Civil Service with the Department of Defense in the field of Accounting and Finance culminating in many years as Chief Budget Officer for the elementary school at Maxwell Air Force Base.
She was a devoted member of Eastern Hills Baptist Church, a community she cherished for more than fifty years, where she taught Sunday School, served on several committees, and was an integral part of the Senior Adult ministry. She was a dedicated member not just to her church community, but also to her beloved neighbors in Somerset and swim class at the Bell Road YMCA. She lived a life of service to others, from establishing a caring committee for her Somerset neighborhood to taking meals or her iconic caramel cake to sick or bereaved friends.
Dotty modeled her life of service by responding with help wherever she saw a need. Above all, Dotty was passionate about family, evidenced by how fiercely she loved hers.
She was preceded in death by her husband, Leonard Ray Blevins, with whom she had three daughters, Pam Beasley (Alba), Terri Golden (Mickey), and Angie Parmer (Jeff). Dotty was a nurturing Meme to her eight grandchildren: Ben Beasley (Ashley), Lydia Beasley Kneer (Joe), Marlan Golden, Jami Golden, Sarah Golden, Caleb Golden, Nic Parmer, and Annagrace Parmer.
Dotty leaves a legacy of tenacious faith, hard work, courage, service, and contagious love.
Dotty's life will be celebrated Saturday, February 12th at 2 pm at Eastern Hills Baptist Church in Montgomery with a visitation starting at 1 pm.
Among Dotty's core values were living a life of service, and the hope she derived from her faith in God. In lieu of flowers, the family requests that you consider a donation to the organization of your choice that embodies these values. A few of her favorites are Eastern Hills Baptist Church (or any church of your choosing), Alabama Baptist Children's Home, American Heart Association, St. Jude Children's Research Hospital, and American Cancer Society.
Published by The Birmingham News from February 11 to February 13, 2022.