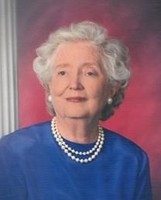 Mary Ann McLean, 81, of Langdon Place of Keene, New Hampshire died peacefully Thursday, April 17, 2014, after a period of declining health associated with Alzheimer's disease.

She was born in Montgomery, AL on February 18, 1933, the daughter of William Hugh and Mary Lucille (Thomas) Crawford.

Mary Ann grew up in the rural community of Nixburg, AL. She graduated from Sidney Lanier High School in Montgomery and attended Auburn University.

On June 5, 1954, in Montgomery, Alabama, she married Floyd Coppedge McLean, Jr. of Laurinburg, North Carolina

Following their marriage Mary Ann and her husband Floyd, who was an Air Force pilot, moved to California before returning to North Carolina. There, they lived briefly in Chapel Hill before settling in Laurinburg. After Floyd's death Mary Ann moved to Pinehurst, North Carolina where she resided until she moved to Keene, New Hampshire to be closer to her daughter Ann. In Keene she was a member of St James Church and a beloved resident of Langdon Place where she loved to play the piano for others.

Mary Ann's proudest achievements in life were being a wife and mother. She was a giving and charitable lady who found beauty wherever she went. She enjoyed music and could play the piano magnificently. She took pleasure in gardening, flower arranging, art and antique collecting and sharing her creative spirit with others.

Mary Ann was an active part of her community and was a member of The National Society of the Colonial Dames of America, a founding member of the St. Cecelia Music Club, and a member of the Cottonland Garden Club. She attended Laurinburg Presbyterian Church where she taught kindergarten and was a circle leader.

She is survived by her son: William Hugh McLean (Will) and his wife Elizabeth Duncan (Betty) of Wilmette, IL; her daughter: Ann McLean Henderson of Keene, NH; seven grandchildren: Thomas Duncan McLean and his wife Samantha of Richmond, VA, Anne Preston McLean of Charlotte, NC, Eliza Coppedge McLean of Chicago, IL, William Crawford Henderson, his wife Roseanna Beth and their son Eben Weaver of Portland, OR, Emily McLaurin Henderson of Keene, NH, Caroline Clawson Henderson of San Francisco, CA, Annie Coppedge Henderson of Keene, NH; and former son-in-law: Franklin Daniel Henderson, Jr of Hancock, NH. She is predeceased by two brothers:; Edwin McNeil Crawford and William Hugh Crawford.

A Memorial Service will be held at the Laurinburg Presbyterian Church, Laurinburg, N.C. on Saturday, April 26, 2014 at 11:00 am. Burial will follow at the family lot in Hillside Cemetery in Laurinburg.

In lieu of flowers, the family suggests that memorial contributions can be made, in Mrs. Mary Ann McLean's name, to the Laurinburg Presbyterian Church, 600 W Church St, Laurinburg NC 28352 or to the Nixburg Presbyterian Church, 2911 N Woodridge Rd., Birmingham Al 35223.

Fletcher Funeral Home & Cremation Services (www.fletcherfuneralhome.com), 33 Marlboro St., Keene, NH 03431 and the McDougald Funeral Home & Crematorium (www.mcdougald.com), 305 E. Church St., PO Box 187, Laurinburg, NC 28352 have been entrusted with the arrangements.