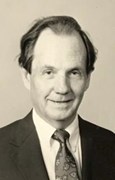 Charles Leslie Brassell was born in Montgomery, Alabama, February 26, 1933, to Mr. and Mrs. Robert Nelson Brassell, Sr. He was the owner of Asphalt Contractors, Inc. for forty-four years and was a very successful businessman. He graduated from Sidney Lanier High School and grew up in the Highland Avenue Baptist Church with Dr. Henry L. Lyon as pastor. He was a founder of McGehee Road Baptist Church.
He passed in the presence of our Lord on June 9, 2017. He is survived by his wife, Janis W. Brassell; his son, Ronald Charles Brassell; his granddaughter, Whitney Blain Brassell; his brother, Malcolm Brassell (Lynell); eighteen nieces and nephews; and twenty-nine great nieces and nephews.
He was preceded in death by his only grandson, Chase Brassell; his parents, Nelson and Ellen Brassell; his only sister, Ellen Jancaterino (John); and five brothers, Robert, Tom, Fred, Bill, and Sam Brassell.
Ministers for the service at the First Baptist Church of Montgomery will be Rev. Neal Hughes and Rev. Keith Gambill.
The pallbearers will be nephews, John Butch Jancaterino, Michael Jancaterino, Dale Gray, Richard Bollinger, Alan Bollinger, Tommy Brassell, Jr., Malcolm "Bud" Brassell, Jr., Sam Brassell, Jr., and Bill Brassell, Jr.
Honorary pallbearers will be the employees of Asphalt Contractors, Inc.
Special appreciation to Carla Thomas and her team of caregivers for a year of wonderful love and care to all of us.
Donations for the Charles L. Brassell Missions at Montgomery Baptist Association would be welcomed and appreciated.
Visitation will be held Thursday, June 15, 2017, at Leak Memory Chapel from 6:00 - 8:00 p.m. The funeral service will be held at First Baptist Church of Montgomery Friday, June 16, 2017, at 2:30 p.m. followed by the burial at Alabama Heritage Cemetery. Online condolences may be made at www.leak-mc.com.
Published in the Montgomery Advertiser from June 14 to June 16, 2017