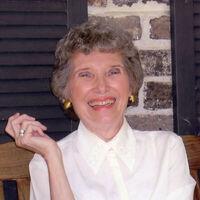 Beverly Smith Bragg Jeans, age 89, of Fayette, AL was born on April 3, 1932, in Montgomery, Alabama, and passed away peacefully on October 3, 2021. She was preceded in death by her first husband, W. C. (Bill) Bragg, Jr., her parents, Arnold Smith and Dorothy Dabney Smith, and her grandparents.
She is survived by her second husband John Berger Jeans, Jr., her sister, Edna Duer, her children Dabney Foshee (David), Martha Carroll (Chip), John Bragg (Tracy), eight grandchildren, John Foshee, Chase Carroll (Rachel), Bragg Foshee (Megan), Cole Carroll (Andrea), Dabney Bragg Malugani (Ty), Sarah Bragg, Charley Bragg, and Jack Bragg, three great-grandchildren, Charlie Ann Carroll, Harrison Malugani and Caroline Foshee.
Beverly was a 1950 graduate of Sidney Lanier High School, proudly attended Sweet Briar College for two years, and graduated from the University of Alabama in 1954 where she was a member of Chi Omega Sorority. She was a faithful member of Fayette First United Methodist Church for over 60 years, serving in numerous capacities, including teaching Sunday School for over 45 years and her greatest love of personally visiting and bringing in new people to the church. She also had a heart for mission work where she attended numerous trips in Central America and Eastern Europe. Beverly was devoted to service her entire life, having served on the State Board of Mental Health as State Secretary, and volunteered at Bryce and Partlow Mental Hospitals.
She co-founded the "Pink Ladies" group to serve the residents of the Fayette Nursing Home and served on the Auxiliary in support of the Fayette County Hospital. She was also devoted to children in Third World Countries and supported well over 125 children for over 55 years through her support of the Christian Children's Fund and by writing letters regularly to foster a personal relationship with each child.
Beverly had a passion for family history and travel. For more than 40 years she wrote about the members of her Dabney family with over 150 volumes of her essays being housed in the Virginia Archives. A private family graveside service will be held at the Fayette City Cemetery.
In lieu of flowers, the family requests donations to the Fayette First United Methodist Church, 412 Temple Ave. N., Fayette, AL 35555.