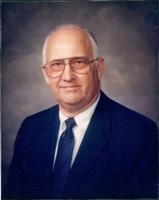 Harold was born in Georgiana, Alabama, on November 26, 1931, to John and Vera Shepherd. He grew up in Montgomery, Alabama, graduating from Sidney Lanier High School. Harold was preceded in death by his parents, John and Vera Shepherd, and his sister Gloria McVey.
Harold joined the military during the Korean War and received a fleet appointment to the U.S. Naval Academy. He later left the academy to marry Jean Chizmadia from Fairfield, Connecticut. He completed his education at the University of Alabama. While there he was selected Cadet Wing Commander of the Air Force Reserve where he remained active attaining the rank of major.
Harold had a 35-year career with the Bell Telephone Companies where he served on various assignments in Huntsville, Mobile, and Birmingham, Alabama. He was always active in civic activities, helping to establish Shades Mountain ballpark, serving on the first Hoover Library Board, and the first Hoover City School Board. He was instrumental in establishing the Hoover City School System. He was politically active in the Republican Party.
Harold had been a devoted member of Shades Crest Baptist Church serving on various committees since 1965 and was elected a lifetime deacon.
Harold is survived by his wife Jean, his daughters Tricia Ferguson (David) and Sharon Perry (David), and his sons Michael (Denise) and David (Teresa). He also leaves behind nine grandchildren and 13 great-grandchildren.
The family will have a graveside service at Southern Heritage Cemetery at 11:00 AM on Wednesday, April 28, 2021, followed by a visitation held at Shades Crest Baptist; 452 Park Ave., Hoover, AL 35226, at 1:30 PM with a memorial service to follow at 2:00 PM.
Published in The Birmingham News from April 26 to April 28, 2021.