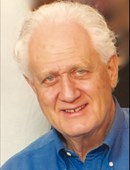 Albert Thomson "Bert" McMain, Jr. September 16, 1932 - March 15, 2017, was born in 1932 in Asheville, North Carolina, and was the eldest of nine children. He was affectionately known as "Tommy" as well as 'La Jolla Bert'. After a battle with cancer, Bert died peacefully at home while listening to Mozart, his favorite classical music!
In 1950, he was honored with a diploma from Sidney Lanier High School in Montgomery, Alabama and went on to achieve a Bachelor's degree in Engineering Physics from Auburn University. He continued his education and gained a Master's degree in Nuclear Engineering from North Carolina State. As a young man, he helped design and build nuclear submarines in Pascagoula, Mississippi and also wrote some of the instruction manuals!
In 1959, Bert embarked on a career with General Atomics (GA) in La Jolla, California. He played an instrumental role marketing the TRIGA Research Reactor and assisted in over three dozen TRIGA operations worldwide. In addition to publishing and presenting numerous technical papers, he invented the TRIGA conversion fuel cluster and annular core pulse reactor.
After retiring from GA, Bert founded Golden Triangle Enterprises focusing on real estate investment and management throughout La Jolla and University City. Blessed with an intellectual mind, a big heart and an inquisitive nature, Bert was a true Renaissance man.
An avid traveler and lover of the Arts, the Athenaeum, La Jolla Playhouse, San Diego Opera and the UCSD Symphony and Chorus were all a regular part of his active lifestyle with his life partner, Elaine Wolfe. He was a member of St. Paul's Episcopal Cathedral. Fondly remembered as an incredible conversationalist and limitless resource of knowledge and information, Bert always expressed a sincere interest in everyone he met.
Bert was a loving family man, who was very involved with his blended family of five daughters, nine grandchildren, and one great-grandson. He is survived by Elaine Wolfe, the love of his life and partner of 40 years; his daughters Lisa Norton of San Diego, Karen Reynolds of San Marcos and stepdaughters Sherry Wolfe of New York, Karen Wolfe of Palo Alto and Lori Wolfe of Vancouver.
Visitation will be held on Thursday, March 23rd from 4:00-7:00 pm and a 1:00 pm Memorial Service on Friday, March 24th at the Sorrento Valley Chapel at El Camino Memorial. In lieu of flowers, donations can be made to the Pancreatic Cancer Action Network.
Published in The San Diego Union-Tribune on Mar. 19, 2017