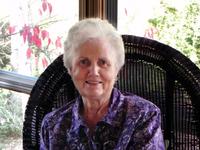 Elizabeth McCoy O'Hara, 85, passed away surrounded by family on December 2, 2018. She was born in Montgomery, Alabama on July 9, 1933, to Jean Brooks and Aquilla Brooks McCoy.
Elizabeth, or "Lib" as she was known, spent her childhood in Montgomery, and attended Sidney Lanier High School, Huntingdon College, and the University of Alabama, where she was a member of Zeta Tau Alpha sorority.
While at Alabama, Lib met her husband, Jim O'Hara. They had four children and were married for 58 years, until his passing in 2012. When Jim was commissioned in the Air Force, Lib embraced military life and appreciated the unique character of each base assignment, taking the family on trips across Europe while stationed in Germany and enjoying her tropical backyard and lanai in Hawaii. Along the way, she made lifelong friendships and ensured her family was ready for the next move, which usually came every three to four years.
Upon Jim's retirement from teaching at the University of Mississippi Dental School in Jackson, Lib and Jim moved to Woodstock, Georgia to be closer to their children in 1996. Lib loved visiting the family's cabin in North Georgia, playing bridge with neighbors at Bradshaw Farms, and spending time with family and friends, including Sandra Campbell of Canton and Phyllis Upshaw of Austell, who took wonderful care of Lib in her later years.
Lib stressed the importance of learning and higher education to her children, all four of whom earned master's degrees related to their field of work. She served on USA Today's investor panel in the early 1990s. Her love of travel took her across the globe to destinations including New Zealand, Russia, and South America.
Planting and gardening became a hobby, and Lib became an expert in growing orchids. She loved her cats, pancake breakfasts with family, and trips to Brewster's Ice Cream.
Lib is survived by her daughter Marion Lister and son-in-law Tony Lister of Marietta, Georgia, daughter Laura Johnson and son-in-law Scott Johnson of Woodstock, son Brooks O'Hara and daughter-in-law Victoria O'Hara of Bradenton, Florida, son William O'Hara and daughter-in-law Jessica O'Hara of Peachtree City, Georgia, and sister Jean Evans and brother-in-law Frank Evans, of Montgomery.
Lib also enjoyed time with her grandchildren Jennifer Rasmussen and husband James Rasmussen of Victoria, Minnesota, Rachel Horgan and husband Ian Horgan of Colorado Springs, Colorado, Ryan O'Hara of Peachtree City, Georgia, Ashley Buckner and husband Dan Buckner of Houston, Texas, Sean O'Hara of Bradenton, Florida, and her three great-grandchildren Knox and Dax Rasmussen of Victoria, Minnesota, and Brooks Buckner, of Houston, Texas.
The family will receive friends from 11 am to 12 pm, Friday, December 7th, at Woodstock Funeral Home, and funeral services will be held immediately after at 12 pm. Woodstock Funeral Home is located at 8855 Main Street, Woodstock, Georgia, 30188. Burial will follow at the Georgia National Cemetery.
In lieu of flowers, please send a donation in Lib's memory to the

Cherokee County Animal Shelter
1015 Univeter Road
Canton Georgia 30115
Phone number: 770-345-7270.