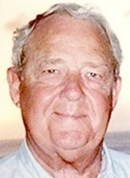 Richard L. Howell, Sr., age 82, of Wayzata, MN, passed away on March 15, 2016, surrounded by family. Dick was born in Philadelphia, PA, on July 14, 1933, the younger son of Homer and Elizabeth Howell.
Soon after his birth the family moved to Alabama. Dick completed his B.S. in Chemistry from Auburn University and was commissioned as an officer in the U.S. Army upon graduation. Dick had a long career in the investment business, culminating as President of Dain Corporation.
Dick is survived by his devoted wife Meredith, children Rick Howell of Excelsior, MN, Larry Howell and wife Pam of Wayzata, MN, Andrew Howell of San Francisco, CA, Stuart Howell and wife Emilie of Washington D.C., Lindsay Howell and husband Dr. Alexander Gurfinkel of Minneapolis, MN; Grandchildren Asher, Alex, Caroline, and Camden; brother Homer Scott Howell of Alexander City, AL.
A gathering to celebrate Dick's life and passion for the game of golf will be held at 4:30pm, Wednesday, May 18th, at Woodhill Country Club in Wayzata.
The family has asked for contributions to be made to "University of Minnesota Foundation" and designated for the "Science of the Green (20620)", P.O. Box 860266, Minneapolis, MN 55486-0266.
Alternatively, contributions can be made to The Western Golf Evans Scholars Foundation, One Briar Rd., Golf, IL 60029.
Published in the Montgomery Advertiser on Apr. 10, 2016.