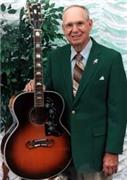 Greely Moore Wells, age 86, went to be with his Lord and Savior on Tuesday, October 4, 2016. Mr. Wells, affectionately known as Daddy and Granddaddy, was predeceased by his devoted wife of 61 years, Edna Wells of Montgomery, his dear grandson, Will Collins, and his special brothers and sisters, Harold, Roger, Roy, Mae and Gwen.
He is survived by three daughters, Sheila Laney, Angela (Randy) Williams both of Montgomery, Alabama, Valinda (Billy) Collins of Mt. Olive, AL; two sons, Terry Wells of Montgomery, AL, Randy(Joyce) Wells of Alabaster, AL; one sister, Mildred McQuinn of Panama City, FL; two brothers, Wayne Wells of Orangeburg, SC and Clark Wells of Chicago, IL; eight grandchildren, Ashley, Clint, Mandy, Tiffany, Katie, Tori, Brittany, and Hannah; four great-grandchildren, Eli, Colin,Laney, and Caleb.
Mr. Wells was first and foremost a devoted husband, father, grandfather, great-grandfather and friend to all who knew him. His most important achievement in life was to provide lovingly for his family, be of help to friends in need and to loyally support his church.
Professionally, he served a year in the U.S. Army and served in the Army Reserves for 35 years. Mr. Wells worked at Gulf Atlantic Warehouse 13 years as a payroll clerk, shipping and receiving foreman, and plant engineer. He then worked 30 years for the State of Alabama ABC Board.
Mr. Wells loved the Grand Ole Opry, guitars, talking on his ham radio and just plain tinkering. He absolutely loved horse trading and became widely known as "Sanford" of Sanford and Son. Two of his proudest accomplishments were: Achieving the highest rank of Command Sergeant Major as an enlisted serviceman in the Army Reserves and receiving the Meritorious Service Medal and being personally appointed by the Governor of the State of Alabama to be a member of his Cabinet.
His life motto was The Golden Rule. His words of wisdom include: serve the Lord, share with your family, do the best you can, save for a rainy day, make friends and to work hard. We will miss Daddy as we miss Momma.
The family will receive friends at Leak Memory Chapel on Sunday, October 9, 2016 from 1:00 p.m.-3 p.m. Funeral services will follow at 3:00 p.m. with Pastor Earl B. Wise officiating. Burial will follow in Oakwood Annex Cemetery.
Pallbearers; Billy Collins, Jeff Rogers, Bobby Laney, Tom DeSimone, Bubba Hughes and Mike Williams.
He is deeply loved and will be dearly missed by all.
In lieu of flowers donations may be made to Highland Gardens Baptist Church in his memory.
Published in the Montgomery Advertiser from Oct. 8 to Oct. 9, 2016.