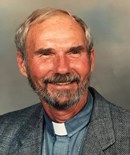 Rev. C. Russell Smith Jr.

Clyde, NC - Retired physician and ordained Deacon at St. Andrew's Episcopal Church in Canton NC, C. Russell Smith, Jr. died peacefully at home on April 21, 2017, attended by his family and Care Partners Hospice.
Born in 1931 to Curruth R.Smith and Cecile Eakin Smith, he grew up in Montgomery, Alabama and was president of the senior class at Sidney Lanier High School. He graduated Phi Beta Kappa from the University of Alabama, and from the UA Medical School, after which he filled a U.S. Army assignment in Berlin, Germany, and a residency in Internal Medicine at the Mayo Clinic in Rochester Minnesota. In Lakeland, Florida, Smith practiced Rheumatology at the Watson Clinic, retiring early to become an ordained clergyman in the Episcopal Church, heeding a call of service.
His outreach projects over his twenty years at St. Andrew's have included chief dishwasher and floor mopper at the Canton Community Kitchen, board member of the Good Samaritan Clinic, and volunteer Chaplain at Haywood Regional Medical Center. Rector Tim McRee says "He has been my strong right arm and colleague in ministry, blessing me constantly with his grace-filled wisdom, experience, and humor."
Active canvasser for the Haywood County Democrats in the recent election, he was an early peace activist standing in protest of the Iraq war. He was on the Board of the Friends of the Library of Haywood County.
An avid student of Buddhism, Judaism, and Islam, in 2010 he and his wife joined their son Russ in India for a Pilgrimage of the Buddha Path led by Zen master Thich Nhat Hanh.
An Alabama football enthusiast, and golfer, he was a marathon runner who ran the original Greek run: Marathon-to-Athens. In later years he enjoyed regular hikes from his Crabtree Mountain home with his son Russ, who always struggled to keep up with his dad's pace.
Smith is survived by his wife, actress Barbara Bates Smith, (formerly Barbara Brotherton of Jasper Alabama); his son Russell, son Merrill, (and Esther Olavarria), and daughter Susan Smith Sharpe (and Terry Sharpe) and grandchildren Ellison Sharpe Summey, McKay Sharpe, and Winter Sharpe, and by brother-in-law Frank A. Brotherton. He was pre-deceased by a sister Shirley Cull.
Memorials may be made to:
St. Andrew's Episcopal Church
99 Academy Street
Canton NC 28716
A memorial service will be held on Wednesday, May 3, 2017, 2:00 PM at St. Andrew's, with the Reverend Timothy P. McRee officiating. A reception will be held at the church following the service.
Published in the Asheville Citizen-Times from Apr. 27 to Apr. 30, 2017