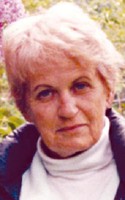 Martha Kate Chernoch, 84, of Scotia, NY, passed away on June 28, 2016. She was preceded in death by her parents and sister, Jo-Ann Ard.
Service will be held at St. Margaret of Cortona Catholic Church, Rotterdam Junction, New York on July 6, 2016 at 10 a.m. Burial will follow at Most Holy Redeemer Cemetery, Route 7, Niskayuna, New York. Visitation will be held at Bowen & Parker Brothers Funeral Home, Latham, New York on July 5, 2016 from 4 to 7 p.m.
Martha was born in Euclid, OH to John and Doris McRae, who later moved to Montgomery, AL, where Martha and her two sisters grew up. Proud to skip a grade, she graduated Lanier High School in 1949, and earned a Bachelor of Science in Mathematics from Duke University in 1953.
This southern lady then moved to Upstate New York, to work as a Computer Systems Analyst for General Electric's Knolls Atomic Power Lab, General Engineering Lab, and Steam Turbine for 20 years. She met her husband, Joseph, by the Coke machine in Building 2 at GE, where they worked. She enjoyed nature and the outdoors, spending hours walking the fields and woods of the farm she shared with Joseph during 55 years of marriage. Her favorite pastimes included feeding the deer and wild turkeys roaming the farm and walking her German Shepherd around the pond.
She loved travel, visiting her children wherever they lived across the United States and overseas. She was active in her church and enjoyed socializing with the KAPL Retirees and Old Timers.
Martha is survived by her husband, Joseph of Scotia, NY; sister, Jane Goetzman and husband Bruce; son, Paul and wife, Tina; daughter, Katherine Erb and husband, Barry; son, John and wife, Ann; and grandchildren, Jaime, Danielle, Amelie, Jonathan, Sophia, and Sierra.
Memorial donations, in lieu of flowers, may be made to St. Margaret of Cortona Catholic Church. Visit Bowen and Parker Brothers for directions and a condolence book.