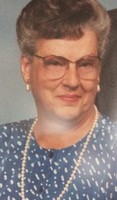 Martha Ann Burnham Taylor, passed away on June 2, 2014. She was 82 years old. She leaves behind her loving husband William R. (Bill) Taylor; her son, Billy Ray Taylor (Diana) and two granddaughters, Jessica T. Genry (John David) and Rachael Taylor.
Martha Ann was a lifelong resident of Montgomery, Ala. More importantly, she was a loving and supportive wife and mother for 58+ years. She was preceded in death by her parents, Mr. and Mrs. W. H. Burnham and her in-laws Mr. and Mrs. G. W. Taylor. It is a comfort and a joy to know that she will be received by them and by Our Lord in Heaven.
Services will be held at Leak Memory Chapel on Friday, June 6, at 3:30 pm., with Rev. Lenny Bolton officiating. The family will receive family and friends on Friday from 2 to 3:15 pm.
Published in the Montgomery Advertiser from June 4 to June 6, 2014.