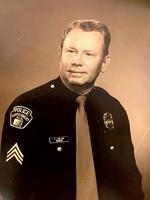 Thomas Joseph McLain 92, a long-time resident of Montgomery, died peacefully at home on May 23, 2022. He was preceded in death by his parents, Lucius McLain and Pearl Nelson, a sister Helen McLendon, grandson Luke Woodard and great grandson Bryson Barron.
He was survived by his beloved wife of 71 years Flora McLain; daughter Linda English, sons Thomas McLain (Vonda) and Michael McLain (Lisa), (10) grandchildren, (11) great-grandchildren, and various nieces and nephews.
T.J. was born July 10, 1929, in Richmond, Virginia. He served with the U.S. Navy on the U.S.S. Charles S. Sperry prior to starting a 19-year career with the Montgomery Police Department. He retired as a Captain with the police department in 1983 and continued with his construction company, which had operated in Montgomery for 58 years. As a member of Catoma Baptist Church, T.J. served as a Deacon for 15 years.
A visitation for Thomas will be held Thursday, May 26, 2022, from 5:00 PM to 7:00 PM at Leak Memory Chapel, 945 Lincoln Road, Montgomery, AL 36109. A graveside service will occur Friday, May 27, 2022, from 10:00 AM to 12:00 PM at Montgomery Memorial Cemetery, 3001 Simmons Drive, Montgomery, Alabama 36108.
Fond memories and expressions of sympathy may be shared at www.Leak-MC.com for the McLain family.