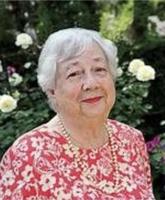 Sarah Howard Stone, age 92 and a former resident of Montgomery, AL entered into eternal rest at the home of her daughter, Rebecca Stone Marshall, and her son-in-law, Samuel Allen Marshall II in Beaufort, SC. Sarah attended Sidney Lanier High School and was a member of St. John's Episcopal Church in Montgomery, AL. She is best known as a teacher, designer, and author of sewing books and patterns for children's heirloom dresses. She is most responsible for reinstituting the needlework art form of French Hand Sewing in America. She and her daughter Melissa owned and operated Sarah Howard Stone Inc., in historic Old Cloverdale for many years and she established the Mary McLemore Scholarship Fund to send deserving young women to college in Alabama,

She is preceded in death by her mother, Sara Roe Howard, and father, Brunson Bibb Howard, her husband, Oliver Hardy Stone, Jr., her three brothers, John, Bibb, and Robert Howard, and her daughter, Melissa Stone Perryman. She is survived by her son, William Oliver Stone (Frances), two daughters, Rebecca Stone Marshall (Sam) and Caroline Stone Bennett (Ernie), and three grandsons, Sam (Muray), Davis (Cordes), and Benton (Emily), four granddaughters, Melissa, Sarah, Mary Catherine and Rebecca, and eleven great-grandchildren.
A memorial service is scheduled for 11:00 am-12:00 pm, Thursday, August 11, 2022, at St. John's Episcopal Church in downtown Montgomery, AL with visitation being held in St. John's Fellowship Hall prior to the service from 10:00 am to 10:45 am.
In lieu of flowers, contributions in Sarah Howard Stone's memory may be sent payable to St. John's Episcopal Church, 113 Madison Ave., Montgomery, AL 36104. Please note SHS or Mary McLemore Scholarship Fund on the "for" line of your contribution check.
Anderson Funeral Home and Crematory is serving the family.
Published by Legacy Remembers on August 7, 2022.
https://www.legacy.com/us/obituaries/legacyremembers/sarah-stone-obituary?id=36131585