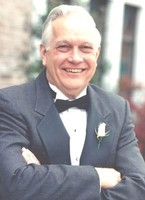 Herbert "Doyle" Elmore of Atlanta, Georgia (formerly of Montgomery, Alabama) ceased his earthly labors on September 3, 2014.
Memorial services are to be held September 13, 2014 at 6:00 p.m. at Mount Paran Church, 2055 Mt Paran Road NW, Atlanta, Georgia 30327, Dr. Kent Hawkins presiding. Family visitation starts at 5:00 p.m.
Born on December 4, 1929, Doyle was the son of William H. Elmore and Nancy Maida Willis. Doyle graduated from Sidney Lanier High School located in Montgomery, Alabama in 1948. Doyle served in the United States Air Force from 1950 to 1954, rising to the rank of Technical Sargent while stationed in Ramstein, Germany, where he met the mother of his three daughters.
Doyle was a member of Mount Paran Church where he sang in the congregational choir. Known by all as a lover of songs, Doyle enriched many lives with his beautiful singing voice as well as his wit and his gentle manner. Doyle was a dependable and kindhearted friend to many.
Doyle is survived by his former spouse, Helga Kurzbach Elmore; daughters, Celeste Cole and husband Terry of Asheville, NC; Claudia McDavid and husband Stephen of Decatur, GA; and Heidi Wright and husband Wayne of Smyrna, GA; grandchildren: Kelin McDavid, Matthew Wright, Grace Wright, Olivia McDavid, Cyrus McDavid, and Emma Wright.
Published in the Montgomery Advertiser on Sept. 11, 2014.