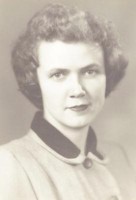 Lillian Ann Easterling Wells, our sweet Annie, was called to be with our Heavenly Father on June 4, 2015, with her beloved daughters by her side.
Ann was born on January 6, 1928 in Montgomery, Alabama to Flossie and Nathan Easterling. She was preceded in death by her husband, Col. (Ret.) Jerrie C. Wells, her parents, and twin brother, William Dan Easterling.
Ann is survived by her daughters, Sarah and her husband Steve Fekete, and Margaret and her husband, Richard Patke. She is also survived by her treasured grandchildren, Haley and Stuart Patke, and Alex Fekete.
Annie married a charming, young Air Force captain in 1954, and her Southern upbringing served her well in her role as an officer's wife. We should never forget that the Greatest Generation would not have been the same without the unconditional support of all the wives on the home front.
Ann and Jerrie's career in the Air Force took them far and wide, including Louisiana, Arkansas, New York, Alabama, California, Puerto Rico and Delaware. In 1975, they retired in Bryan, Texas, where they lived for 35 years.
During this time, Mom and Dad enjoyed working on their ranch in Centerville, Texas, better known as "the country". After her husband's death in 2011, she moved to Austin, Texas to be closer to her family.
Mom had a delightful sense of humor and will always be remembered for the way she made others laugh. We'll never forget her sweet disposition and compassionate heart. Annie enjoyed many pleasures in life, including cooking, fishing, working outside, playing games, and all things Alabama. We know, however, that her greatest joy was taking care of and spending time with her family.
Our family is deeply indebted to the caregivers at The Heritage at Gaines Ranch. These angels here on Earth loved our Mom, always took exceptional care of her and treated her with the utmost respect. We would like to especially thank Yvonne Cunningham and Mary Smith.
A Celebration of Annie's Life was held on Monday, June 8th, 2015 at Cook-Walden / Forest Oaks Funeral Home in Austin, Texas. She was laid to rest with her husband at Fort Sam Houston National Cemetery in San Antonio.
In lieu of flowers, please consider a donation to New Hope Church, c/o Katrina Adams, CO 23, Clio, Alabama, 36017. Mom loved this small, country church and eagerly anticipated their annual July homecoming. She's now had her Heavenly homecoming, and we are thankful that she is rejoicing in paradise for eternity.
As Annie would say, "Certainly have seen ya!"
Condolences may be made at www.cookwaldenforestoaks.
Published in the Montgomery Advertiser on June 10, 2015.