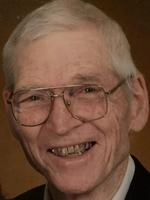 On Saturday, December 5th, 2020, Robert (Bob) Henry Collins, III passed away peacefully at home, surrounded by family. He is preceded in death by his mother, Anne Griffin Collins, and his father, Robert Henry Collins, Jr.
In 1952 he married the love of his life, Carolyn Sylvest Collins of Montgomery, Alabama. Bob was a long-time member of Shades Valley Presbyterian Church. He loved spending time with family. He enjoyed reading, tennis, and almost any outdoor activity. He had a special penchant for walking, which he enjoyed well into his 80s.
Bob was born in Montgomery, Alabama in 1930. He was a graduate of Sidney Lanier High School and upon graduation attended Auburn University wherein 1952 he earned a Bachelor's degree in Engineering Physics. Bob went on to serve in the US Air Force where he earned a Master's in Electrical Engineering through the Air Force Institute of Technology in 1954.
After serving at Wright Patterson AFB in Dayton, Ohio, Bob left the service in 1957. He and Carolyn returned to Alabama where Bob began his civilian career at Southern Research Institute (SRI) in Birmingham as a research engineer. While at SRI he worked with teams to develop dust particle measuring equipment, biological warfare detection equipment for the U.S. government, and Optical Guidance Systems which were integrated into the Maverick Air to Ground Missile and ultimately used in the Persian Gulf War. He retired from SRI in 1999.
Bob is survived by his wife, Carolyn, and his four children David Robert Collins, Nancy Claire Collins (Becky Carlisle), Julie Collins Clark (Mark) and Stephen Griffin Collins (Thomasene) and their five grandchildren Louisa Bradford Collins, Adeline Anne Clark, Robert Henry Collins IV, Ethan Lightfoot Clark, and Clayton Trueheart Collins who affectionately referred to him as Big Daddy.
The family would like to especially thank the caregivers at Always Best Care for their compassionate care. Due to Covid-19 concerns, the family will hold a small, private, outdoor service.
In lieu of flowers, donations may be made to Firehouse Ministries, Birmingham, Alabama in support of our city's hungry and homeless neighbors.
Published in The Birmingham News from December 8 to December 9, 2020.