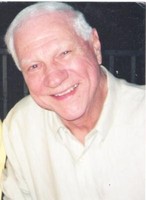 Chauncey D. Wood, Jr., (1927-2015) local Realtor and artist, passed away Saturday, January 31, 2015 at his home in Grand Bay at the age of 87.
Mr. Wood was a native of Montgomery and a 1947 Graduate of Sidney Lanier High School. He was a star player on the football and track teams. He graduated from Auburn University in 1951 and was a sprinter on the track team.
Mr. Wood served as the Executive Secretary for the Alabama Sheriff's Association from 1965-69 and was instrumental in starting the Dallas County Boy's Ranch. He also held a variety of advertising positions with national retail companies over the years.
From 2002 to 2014 Wood was broker and owner of Azalea Real Estate Agency in Grand Bay. He was married to the late, Louise McClennan Wood of Grand Bay.
Mr. Wood is survived by his daughter, Shawn Christensen of Mobile and his son, Chauncey D. Wood, III of Montgomery. They wish to thank everyone for their kindness and prayers.
Friends may make a donation in Mr. Wood's memory to the Auburn Alumni Association and say "War Eagle!"
Published in the Montgomery Advertiser on Feb. 8, 2015.p