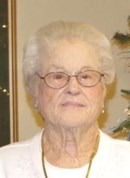 Bessie Kate Rutherford Nickel, 89, went to be with her Lord and Savior on May 24, 2017, surrounded by family. She was preceded in death by her parents John and Martha Rutherford and brothers Fred, Carl Benson, and Harold "Duck" Rutherford and sister Jane Hutcheson.
She is survived by her loving husband of 64 years, Elden "Nick" Nickel, son Ronnie Nickel (Cathy), daughter Susan Slaton (Robert), grandchildren Sarah Corkran (Don), Lauren Turner (Chip), Andrew Slaton and great-granddaughter Madison Corkran.
Born in Deatsville, Alabama August 31, 1927, she graduated from Lanier High School in 1944 and was married to Nick in 1953. She moved to Fremont, Ohio where she lived for twelve years. In 1965 she and her family moved back to Montgomery, Alabama where she lived out the remainder of her life.
The family will receive friends at Southern Memorial on May 27, 2017, at 12:30 PM, service to follow at 2:00 PM with burial at Greenwood Cemetery.
Published in the Montgomery Advertiser on May 26, 2017.