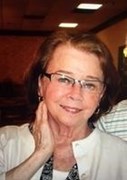 Rita Marie Rochambeau Perham - August 18, 1930 - May 2, 2017
Columbus, GA- Rita Marie Rochambeau Perham born August 18, 1930, in Miami, Florida. She was at home with her family when Jesus called her home May 2, 2017. Rita had been dealing with cancer for several months. She was predeceased by sisters Charlotte and Suzie.
Rita graduated from Sidney Lanier High School in Montgomery, Alabama and attended Huntingdon College. Rita and her husband John moved to Columbus in 2013.
In Rita's earlier years she owned a dance school and taught dancing in Texas. While she lived in Birmingham she was a legal secretary and a top sales representative for Avon. She loved to dance and travel. Her favorite pastime was spending time with her family. She was also a member of Civil Air Patrol during the wartime.
Left to cherish her memories is her husband, John Perham of 35 years. Her son Stephen (Brenda) Simonton of Columbus, Georgia. daughter Deidre (Tom) Young of Miramar Beach, Florida, grandchildren Kelly (Rob) Gardner, Crystal Simonton of Columbus, Georgia, Brennen Young of Miramar Beach, Florida, Kara Marie Young of San Diego, California. Great-grandchildren, Allison, Abigail, and Nathaniel Gardner of Columbus, Ga. Her sister Sharon Lovell of Birmingham, Al, her sons Bo, Dan (Lisa) and nephews and nieces. A brother-in-law Jim (Margaret) Perham of California.
Also extended family members in Columbus Judy and Mark Woodhams and many caring friends. A special thank you to the staff and wonderful friends from Columbus Hospice and Riverplace Retirement Home.
A funeral service will be Friday, May 5th 3:00 at Chapel of the Pines Mausoleum at Parkhill Cemetery. Visitation will be one hour prior to service at the Chapel. The Reverend Jimmy Elder will be officiating.
Online condolences may be offered at www.shcolumbus.com
Published in Columbus Ledger-Enquirer on May 4, 2017