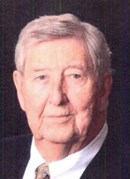 Thomas S. Kimbrough, age 90, died Thursday, July 27, at Galleria Woods Senior Living Facility after a brief Illness. He is survived by one son, Thomas S. Kimbrough, Jr.; daughter-in-law, Sharon Mitchell Kimbrough; and one granddaughter, Madison Adele Kimbrough. Mr. Kimbrough resided in Birmingham and North Shelby county since 1973 but was a native of Montgomery, Alabama, where he lived for 42 years. He is a graduate of Sidney Lanier High School and later attended Huntingdon College. He was a Medic in the US Navy during WWII, and served in the South Pacific from 1944-1946, with his last year of service being with occupational Forces in Japan.
Mr. Kimbrough was the son of Thomas and Opal Kimbrough of Montgomery, Al. He began his business career in Montgomery in 1949, as a loan officer with the (then) First National Bank. In 1951 he became a sales representative with Motion Picture Advertising Co., a national sales organization in New Orleans. Mr. Kimbrough established new and higher sales standards for the company, and in 1954 was honored for leading the sales force nationally. Subsequently, he was also Sales Training Manager for the company's southeastern division.
During the next twenty years, he established Kimbrough & Associates Advertising Agency, which became Montgomery's largest and most successful ad agency. In Montgomery, Mr. Kimbrough was a charter member of Montgomery Bachelors Club, Officer in the Capital City Kiwanis Club, Director of the Montgomery Chamber of Commerce, and re-established the Montgomery Advertising Club. He was the recipient of the American Advertising Federation's coveted AAF Silver Medal Award. He was a member of Montgomery Country Club and Dexter Avenue Methodist Church.
After moving to Birmingham, Mr. Kimbrough was National Promotion Director for GO, Inc., an Automotive consulting firm, and re-established Kimbrough and Associates Advertising Agency. Mr. Kimbrough was past-president of the Alabaster/Pelham Rotary Club, Director of Family Connections, created, established, and served as president of the (now) North Shelby Chamber of Commerce, and was a member of Riverchase United Methodist Church.
Graveside service will be at 10:15 A.M. on Tuesday, August 1, 2017, at Alabama National Cemetery in Montevallo. Dr. Jim Savage will be officiating. Honorary Pallbearers are Alabaster/Pelham Rotarians. In Lieu of flowers, the family requests memorial donations to The Alabaster/Pelham Rotary Club. Ridout's Southern Heritage Funeral Home directing.
Published in the Montgomery Advertiser on July 30, 2017.