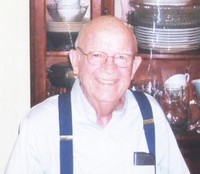 John Nettles Figh, a resident of Montgomery, AL, passed away Tuesday, June 9, 2015.
Funeral Services will be held on Friday, June 12, 2015 at First Baptist Church at 2:00 with Dr. Jay Wolf and Kenny Hoomes officiating, burial will follow in Oakwood Cemetery, visitation will be from 1:00 until 2:00 at the church.
He is survived by his wife Helen Figh, children; Jack Figh, Susan (Lynn) Jones, Grandchildren: Olivia Figh, Alexa Figh, Taylor Jones and Lauren Jones.
Mr. Figh attended Auburn University where he earned a degree in Agriculture. He entered into the United States Air Force and was involved in the Korean conflict. Mr. Figh started his own home delivery egg business and then later went to work with the City of Montgomery.
In 1958 John and Helen were married. He loved his church where he served as a deacon and was actively involved in many ministries of which his favorite was the choir. John most enjoyed Auburn football, nature and gardening and spending time with family, especially at Christmas.
Active pallbearers will be Lynn Jones, Taylor Jones, Lew Figh, Rob Butts, Mike Butts and Ben Hulsey.
In lieu of flowers donations should be made to First Baptist Church Foundation or First Baptist Caring Center.
Online condolences can be made at Leak Memory Chapel.
Published in the Montgomery Advertiser on June 11, 2015.