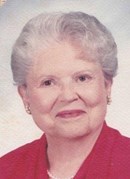 Martha Watson Willson was born in Montgomery, Alabama on May 16, 1928, to the late Adolphus Clyde and Martha Teague Watson. She was predeceased by her parents, brother Lamar Watson, sister Virginia Holliday, and husband Ernest Willson.
Martha attended Sidney Lanier High School in Montgomery, Randolph-Macon Women's College (now Randolph College,) the University of Alabama, and Samford University. While at the University of Alabama she was a member of the Alpha Delta Pi, a social sorority.
After she married Ernest Willson in 1950 she moved to Birmingham. There she worked as a librarian for the Mountain Brook School system for many years. She passed on her love of reading to her students and children. Martha was also deeply devoted to the dogs that she owned during her life. Martha was an active member of the Canterbury United Methodist Church and attended St. Matthews Anglican Church in Weaverville, North Carolina.
Martha is survived by her children Teague Delmas, and Charles of Birmingham, her three grandchildren Christopher, Andrew, and Caitlin, her five great-grandchildren Brody, Braelyn, Lucy, Joseph, and Franklin.
Visitation will be from 5:00-7:00 p.m. Friday, December 29, 2017, at John's-Ridout's 2116 University Blvd. Birmingham 35233. Graveside and Burial will be on December 30, 2017, at Greenwood Serenity Gardens in Montgomery, Alabama at 11:30 a.m.
In lieu of flowers donations may be made to:

Your Local Humane Society

St. Matthews Anglican Church
812 Reems Creek Road
Weaverville NC 28787
Published in the Montgomery Advertiser on Dec. 29, 2017.