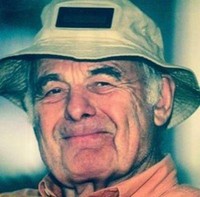 Henry Mandeville Ufford, Jr., 86, died on Monday, November 17, 2014 in Montgomery, Alabama. He was born on July 9, 1928 in Elmira, New York.
He is survived by his wife, Katie LaFoy Ufford of 55 years, 2 daughters Susan U. Major (Keith) of John Creek, Georgia, and Kathy Poore of Tuscaloosa, Alabama; grandchildren, Lauren and Sam Major, and Whitt, Will, and Katie and Hank Poore.
Mr. Ufford grew up in Montgomery, Alabama and attended Sidney Lanier High School. After graduation, he served in the Korean Conflict as a medic. He then attended Sewanee and transferred to Auburn University where he graduated in 1952 with a Bachelor of Science in History. It was here that he developed one of the loves of his life: Auburn Football.
Mr. Ufford returned to Montgomery as a stocks and bond broker for Bernie Perry and Company and later Joe Jolly and Company, where he worked for 29 years, and from whom he recently retired in June 2013. He loved travel, trains, playing ukulele and his family, and was happiest when building fires and hanging out with his dog. He was active in the Kiwanis Club and a member of the Church of the Holy Comforter.
Mr. Ufford will be most remembered for his affable manner and his genuine interest in those around him.
Memorial services will be held on Saturday, November 22nd at 12 Noon at the Church of the Holy Comforter, 2911 Woodley Road, with visitation afterwards at the Ufford residence at 3204 Gatsby Lane in Montgomery.
In lieu of flowers, please make donations to Montgomery Kiwanis Club, 1695 Perry Hill Road, Montgomery, AL 36106 or to the Church of the Holy Comforter.
Published in the Montgomery Advertiser on Nov. 20, 2014.