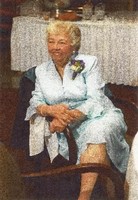 Sept. 2, 1927 - Dec. 21, 2015
Mrs. Katherine Samford Smith Martin, age 88 of Monroeville passed away on Monday, December 21, 2015 at her residence. She was preceded in death by her parents Albert James Smith and Katherine Park Samford Smith and husband Allen Martin.
Mrs. Martin was a native of Montgomery, AL but lived most of her life in Monroeville. She was a graduate of Sidney Lanier High School in Montgomery, AL. Mrs. Martin was a member of Monroeville First Baptist Church.
Mrs. Martin is survived by four sons Samuel Allen (Emilie) Martin, Jr. of Monroeville, AL;
Frank Smith Martin of Monroeville, AL;
James Nettles (Ann) Martin of Birmingham, AL;
Albert Drake (Elaine) Martin of Monroeville, AL;
One brother Albert James Smith, Jr. of Houston, TX;
Nine grandchildren Samuel Connor Martin, Katherine Martin Floyd, Elizabeth Martin Evans, Caroline Martin Lowery, James Nolan Martin, Hudson Louis Martin, Albert Drake Martin, Jr, Allison Leigh Martin and Benjamin Daniel Martin and four great grandchildren.
Visitation will be held on Sunday, December 27, 2015 from 1PM to 2PM at Monroeville First Baptist Church. Funeral services will follow at 2PM with the Rev. Micah Gandy and Rev. Glenn Eubanks officiating. Interment will be at Stallworth Cemetery.
Donations may be made to the:
Lottie Moon Christmas Offering
Monroeville First Baptist Church
389 Pineville Road
Monroeville AL 36460
Pilots for Christ
P.O. Box 707
Monroeville AL 36461
www.pilotsforchrist.net
Johnson Funeral Home is in charge of all arrangements.