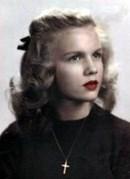 Gene Sheehan Brock, 90, passed away on June 10, 2018, at Bethany House in Auburn, Alabama. She was born on December 27, 1927, to Douglas and Louise Sheehan. She was preceded in death by her parents, her sister, Betty Sheehan Dekle; her brother, Jimmy Sheehan; and her husband, F.D. "Dan" Brock, III.
She is survived by her children, Dana Brock, M.D. and F.D. "Butch" Brock, IV; and grandchildren, Doug Mangi (Hilary), Carter Mangi, and Amelia Brock Harrison (Cory Paul).
Visitation will be held on Friday, June 15, 2018, at 10:00 a.m. at Leak Memory Chapel in Montgomery, Alabama. Graveside Service will follow in Greenwood Serenity Cemetery at 11:00 a.m.
In lieu of flowers, the family requests contributions in memory of Gene Brock be made to:

Dementia Society of America
PO Box 600
Doylestown PA 18901
Published in the Montgomery Advertiser on June 14, 2018.