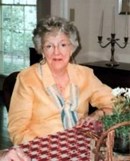 Mary England McConnell Ashley, "Nanny," 88, made her peaceful transition to Heaven on January 18, 2017. A lifelong resident of Montgomery, she is preceded in death by her parents Carroll Truett McConnell and Thelma Wright McConnell and her husband of 53 years Albert Augustus Ashley, Sr., who was the love of her life.
She is survived by their children: Truett Andrew (Charles), Vidalia, GA; Carolyn Harwell (Charles), Wetumpka; Allison Chancellor (Paul), Simi Valley, CA; Albert Ashley, Jr. (Joy), Hope Hull and grandchildren: Ashley Norton (Mark), Will Harwell, Carroll Kirschenmann (Korey), Trey Andrew (Angela), Mary Ross Chancellor, Hallie Chancellor, Kristen Ashley and Gus Ashley. She took great delight in her five great-grandchildren. She also loved Linda Haigler (John) and Toni Frazier (Eddie), as if they were daughters, as well as numerous cousins, nieces, and nephews. Her family celebrates her life. "Her children rise up and call her blessed."
She was a student of the Bible who taught Sunday School for almost seventy years, first at First Baptist Church and later at Pintlala Baptist Church. She was active in volunteering to help others through serving on the board of:
Christian Women of Montgomery,
Alabama Baptist Women's Missionary Union,
Alabama Bible Society, Baptist Medical Center,
Montgomery Area Girl Scout Council,
Junior League of Montgomery,
Montgomery Area Council on the Aging (MACOA)
and the advisory board of WLBF-Faith Radio.
Her school friends formed a Sewing Club as young wives and mothers. They met for over 60 years to eat, sew a little and share life. Friends and family remember her creativity as a teacher, speaker, knitter, and gardener.
After her life celebration service at Leak Memory Chapel on Sunday, January 22, 2017, at 2:30 pm, her body will be laid to rest at Greenwood Cemetery. Visitation will be at Leak from 12:30 to 2:30 prior to the service.
In lieu of flowers, contributions may be made to:
Paul Anderson Youth Home
P.O. Box 525 Vidalia GA 30475
or
Pintlala Baptist Church
73 Federal Rd
Hope Hull A 36043
Online condolences may be made at www.leak-MC.com.
Published in the Montgomery Advertiser from Jan. 21 to Jan. 22, 2017.