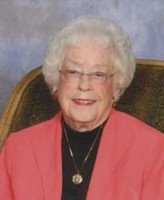 Miriam Long Stanley, 89, a resident of Montgomery, Alabama, passed away July 4th, 2017. She was born June 6th, 1928 to the late John Edward, and Annie Mae Avinger Long, and was affectionately known as "Chim" by her family members.
She was preceded in death by her husband Holley M Stanley. Jr, her siblings Edna Long Andrews, John Edward Long. Jr, William J Long, Margie Long Hudson, Daniel B Long, and Jack C Long. She is survived by her brother, Alton H Long, of Birmingham, Alabama. She is also survived by her three children, Janice Stanley, Steven M Stanley (Sue), Kim Stanley Meyer (Mark) and three grandchildren, Jake Meyer, Megan Stanley, and Maddie Stanley.
She retired from the Alabama High School Athletic Association after 18 years of service and was a long-time member of Forest Avenue/Aldersgate United Methodist Church. She loved to spend time with her family at her place on Lake Jordan, and was a shining example of southern hospitality, oftentimes cooking good ole southern dinners for her family. She was deeply loved and will be greatly missed by all who knew her.
Special thanks go out to Virginia Hails, a caregiver from Home Instead Senior Care, and Amedisys Hospice.
Visitation will be held at Alabama Heritage Funeral Home on Saturday, July 8, 2017, from 11:00 a.m. until 12:00 p.m., followed by a Graveside Service at Alabama Heritage Cemetery.
In lieu of flowers, donations may be made to Aldersgate UMC.
For online condolences please visit www.alabamaheritagefh.com.
Published in the Montgomery Advertiser on July 6, 2017.