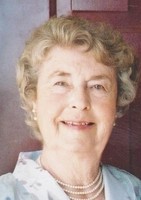 Mrs. Jean Humphries Henry passed away peacefully in her sleep at home on Tuesday, October 14, 2014. Mrs. Henry is preceded in death by her husband, James P. Henry Jr. and daughter, Joy Henry Shelton.
Mrs. Henry was born in Birmingham then moved to Montgomery after her father's death. During WWII, Mrs. Henry sewed uniforms for the service men. She was a beloved mother, grandmother, and friend who will be deeply missed by those who knew her.
She is survived by her son, James Porter Henry III (Martha Ann) and his children, James Henry IV (Liz), Daniel Henry (Rebekah) and Rachel Ann Henry; daughter, Jeanne Henry Walker (William) and her children, Michelle Carter (Ben) and Janette Diaz (Evan); son-in-law Ed Shelton (Holly) and his children, Bart Shelton (Susan), Matthew Shelton (Susan), and Rob Shelton (Jessica) and Rob's daughter, Ava.
Mrs. Jean was a Bible scholar, spending many hours devoted to prayer and bible study. She was a lifelong member of Liberty Church of Christ. A lover of the outdoors, Mrs. Jean spent her time in her yard and was a lover of animals. Her other hobbies included singing, writing poetry and painting. She was a member of the Alabama Farm Bureau and the Pintlala Historical Society.
Funeral service will be held 10 AM Saturday, October 18, 2014 at the Leak Memory Chapel with burial following at Forest Hills Cemetery. The family will receive friends Friday October 17, 2014 from 5-7 PM.
In lieu of flowers donations may be made to the:
Mt. Dora Children's Home
301 W 13th Ave
Mt. Dora FL 32757
Online condolences may be left at www.leak-mc.com.
Published in the Montgomery Advertiser on Oct. 16, 2014.