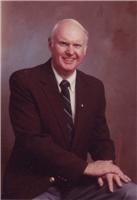 Earl Jackson Hadaway, 85, of Panama City, FL, passed away June 13, 2013 after an extended illness.
Mr. Hadaway was born in Birmingham, AL, March 11, 1928. He was preceded in death by his parents, Andrew Howard Hadaway and Mary Amelia Hadaway.
Earl is survived by his devoted wife of 60 years, Chloe McCullough Hadaway of Panama City, FL; five children, Laura L. Bleak (Don) of Powell, WY, Melodie H. Lyons (Alan) of Puebla, Mexico, Kerry E. Hadaway (Hannah) of Honolulu, HI, Bradford S. Hadaway (Jodi) of Georgetown, KY, and Heather L. Hadaway of Mariposa, CA; thirteen grandchildren, Kaitlin Miles (Jeremiah) of Casper, WY, Kory Bleak of Helena, MT, Tony, Robby, and Gavin Bleak of Powell, WY, Krista Hamilton (William) of Colorado Springs, CO, Ben Lyons (Katie) of Ozark, AL, Thomas Lyons (Emily) of Lynchburg, VA, Jessica Lyons of Puebla, Mexico, Kerys Hadaway of Honolulu, HI, and Eleri, Jackson, and Annaliese Hadaway of Georgetown, KY; four great-grandchildren, Brooke Miles of Casper, WY, Kassandra, Rachael, and Andrew Hamilton of Colorado Springs, CO; his brother, William Monroe Hadaway (Jo Ann) of Hunstville, AL and his sister-in-law, Miriam Bissett of Sarasota, FL.
Earl graduated from Sidney Lanier High School in Montgomery, AL, in 1946. After serving in the U.S. Army/Air Force for three years, Earl completed a B.A. degree in Communications at the University of Alabama in 1953. While earning his 1st Class Engineer's License at the California Institute of Radio and Technology, he started his career in the entertainment industry working as a page and tour guide at the ABC studios in Los Angeles, CA-serving the Danny Thomas Show, among others. After a brief stint as a radio announcer in Selma, Alabama, he worked in television for 22 years as a reporter, anchor, news director, and program director at WJHG in Panama City, FL. In 1980, he left television and joined the staff of Congressman Earl Hutto as District Administrator, serving with him for the next 15 years.
Earl was a Christian and long-time member of First Baptist Church, Panama City, a Rotarian (Paul Harris Fellow), Charter Member and Past President of the Board for the Boys Club of Panama City, Past President of the Panama City Music Association, and Past President of the Board of the Bay County Library. A talented trumpet player, Earl played in the 610th United States Air Force Band while in the service and then in the Million Dollar Band and the Alabama Cavaliers while at the University of Alabama. Later he played regularly in the First Baptist Church orchestra and in the Bay Wind Community Band. After his retirement in 1995, Earl traveled with Chloe to work and play at Yellowstone National Park for 17 years.
He was known for his warmth, his wit, and his few but strong passions-his music and movies, his news, his sweet tooth, his friends, his faith in Christ, his family, and most of all his best friend in love and life, Chloe. All who knew him well loved him deeply.
A memorial service will be held Friday, June 21, 2013 at First Baptist Church, Panama City, Florida. Guests are welcome to greet the family beginning at 2 p.m. and the service will start at 3 p.m.
In lieu of flowers, donations may be made in memory of Earl Jackson Hadaway to the Lottie Moon Mission Offering through First Baptist Church (640 Grace Avenue, Panama City, FL 32401) or to your favorite charity .
Published in Panama City News Herald from June 19 to June 20, 2013