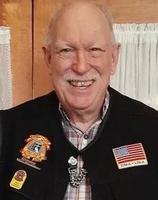 Paul C. Fricks, age 67, of 16 Stone Manor Dr., Berwick, PA, died on Friday, Feb. 18, 2022, at the Geisinger Medical Center, Danville, PA. where he was a patient.
Born in Montgomery, Alabama on May 1, 1954, he was the only child of the late John R. and Evelyn R. (Moore) Fricks. He resided in Berwick for the past 20 years.
Paul was a 1972 graduate of Sidney Lanier High School in Montgomery. He also attended Auburn University, Jacksonville (Ala.) State University and the Northeast Alabama Police Academy.
He was employed by the state of Alabama for 25 years and was a Revenue Examiner 3 when he retired. Following retirement, he worked for H & R Block in Montgomery and after moving to Pennsylvania he worked for them in Wilkes-Barre as a Senior Tax Advisor 3.
Paul was a member of the New Life Ministries in Northumberland, PA. He also was a member of the Christian Motorcyclists Association. His hobbies were genealogy, motorcycles, airplanes, and guns.
Surviving is his wife, the former Becky Royer, with whom he observed his 22nd wedding anniversary on July 20, 2021; four children: Amy Thorpe, Georgia; John Fricks and his wife April, Montgomery, Ala.; Evelyn Fitzpatrick, Opelika, Ala.; Elizabeth Fricks, Berwick; eight grandchildren: Daniel Fricks, Kaylee Rivers, Morgan Dozier, Makenna Dozier, Ma'Liyah Jackson, Dewayne Richards, Jr., D'Anthony Richards, and Faybian Fitzpatrick.
Burial will be at a later date in South Carolina.
Arrangements have been entrusted to the care of Dean W. Kriner, Inc., Funeral Home & Cremation Service, 325 Market St., Bloomsburg, PA.
Condolence messages and photographs may be posted at: www.krinerfuneralhomes.com
Posted online on February 21, 2022
Published in Montgomery Advertiser