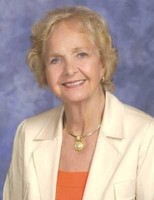 A memorial service for Barbara Vaden Sproull, 87, of Anniston will be held on Sunday, April 27, 2014 at 3:00 p.m. with visitation starting at 2:00 p.m., at the First Presbyterian Church, 1701 Henry Road, Anniston, with the Rev. David Hodnett officiating.
Mrs. Sproull died peacefully in her sleep on Wednesday, April 23rd at her residence. She is remembered as a truly beautiful and caring person. She was affectionately known by her grandchildren and great-grandchildren as "Tutu".
Mrs. Sproull, a native of Anniston, was born on December 25, 1926, the first child of Thomas Hunt Vaden and Eula Crook Vaden. She grew up in Anniston and Montgomery, Alabama. She graduated from Sidney Lanier High School in Montgomery. She later attended the University of Alabama and was a member of Kappa Delta sorority.
On October 11, 1947 she married H. Miller Sproull, Jr. of Anniston, to whom she was married for 61 years. She had six children, seventeen grandchildren and six great-grandchildren.
A truly devoted wife and mother, Mrs. Sproull was active in many community affairs, including Stringfellow Memorial Hospital, the Donoho School, Daughters of the American Revolution and her church, First Presbyterian of Anniston. Her leisure-time activities included spending time with her family and friends at the family's hunting lodge, Quail Point, near Eufaula, Ala. She enjoyed traveling, most notably to Hawaii.
She was preceded in death by her husband, her daughter, Sara Sproull Choquette and her great-granddaughter, Regan Caroline Sproull.
She is survived by her children James Creswell Sproull IV and fiance, Jana Payton of Anniston, Eva Sproull Andrews of Anniston, Hunt Miller Sproull and wife, Susan Vinsant Sproull of Slidell, La., Barbara Sproull Snow and husband, Gary Snow of Sandersville, Ga., and Horace Miller Sproull III and wife, Joy Martin Sproull of Birmingham, Ala.,
Grandchildren James Creswell Sproull V, Drayton Allison Sproull, Paschal Trippe Sproull, Suzanne Sproull Choquette, Sara Choquette Jensen, Justin Hunt Sproull, Marie Louise Sproull, Eva Catherine Sproull, Chelsea Caroline Sproull, Logan Sproull Snow, Shannon Wimberly Snow, Vaughn Morton Stewart III, Houston Sproull Andrews, Wimberly Elisabeth Sproull, H. Miller Sproull IV, Holly Milliken Sproull, Gabriel Sparks Sproull, and great-grandchildren Lucienne Sproull, Camper Sproull, Hunter Jackson Sproull, Jackson Sproull, and Emma Grace Sproull.
Special thanks are given to her caretakers, Jennifer Devlin, Tammy Brown, and Mary Beth Deen.
In lieu of flowers, contributions in her memory may be made to :
The First Presbyterian Church
Rejoice and Restore Fund
1701 Henry Road
Anniston AL 36207
The Donoho School
2501 Henry Road
Anniston, AL 36207
May she rest in peace forever with her husband and family in the presence of our Father in Heaven. We love you Tutu.
Gray-Brown Services is in charge of funeral arrangements.
Published in the Montgomery Advertiser on Apr. 25, 2014