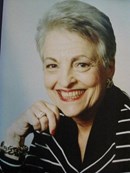 Margaret Trumper Marder of Palm Beach Gardens, Florida and formerly of Hartsdale, New York, passed away on April 23, 2017, of natural causes.
Margaret "Pie" was born in Montgomery, Alabama, on March 26, 1927, to Abraham Trumper and Rebecca Fineman Trumper. She graduated from Sidney Lanier High School in 1945 and then attended the University of Alabama.
In 1948 she moved to New York where she met and later married Steven S. Marder, whom she divorced after 35 years. Pie lived in the Edgemont district of Hartsdale 1955-2014. She was a member of the Scarsdale Golf Club. She was active volunteering for the NY Philharmonic Concert Lectures, the Hoff Barthelson Music School, the Scarsdale Woman's Club, the Scouts and the Edgemont PTA. Pie loved to play bridge and soak up the sun every time she got the chance.
Pie is survived by her daughter Joyce Marder-Bingham (Salt Lake City, UT), son Richard Marder (New Canaan, CT), and granddaughters Rebecca and Christina Marder (New York, NY).
Pie requested no memorial or flowers. She is interred at Ferncliff Cemetery, Hartsdale, NY.
Published in the The Journal News on May 5, 2017.