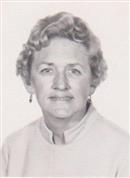 Sarah Elizabeth Roche Browder, age 89, passed away Tuesday, September 6, 2016, from complications of dementia. She was preceded in death by her husband, J. Wallace "Wally" Browder.
Born March 31, 1927, Sarah was a graduate of Huntingdon College of Montgomery, AL. She was an active member of the Daughters of the American Revolution throughout her adult life, having lived in Montgomery, AL; Houston, TX; Abingdon, VA; The Woodlands, TX; Chattanooga, TN; and McKinney, TX.
Sarah is survived by her daughter, Lenora Browder Naylor, and grandson, Matthew Lanier Naylor; son, Dr. Rick Browder, daughter-in-law, Mary Singler Browder; granddaughter, Jennifer Browder Troiani and her three children, Danny, Emelynn and Tobias; granddaughter, Laura Ann Browder, grandson, James Singler Browder, and granddaughter, Rebecca Leigh Browder.
There will be a graveside service at Greenwood Cemetery in Montgomery AL on Sunday, September 11, 2016, at 1:00 p.m. where she will be interred with Wally.
The family request donations be made in Sarah's name to:
Liberty Youth Ranch
PO Box 366206
Bonita Springs FL 34136
To offer condolences or sign an online registry, please visit TJMfuneral.com.
Published in the Montgomery Advertiser on Sept. 10, 2016