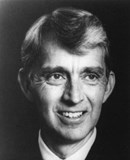 Maurice Cecil Mackey, Jr. ("Cecil"), University President Emeritus and University Professor, devoted family man, dedicated public servant, and equal rights advocate, passed away on Thursday, Feb. 8, 2018, in Florida after suffering a brief illness. He was 89 years old. He was the husband of Clare (Siewert) Mackey to whom he had been married for 64 years.
Cecil was born on January 23, 1929, in Montgomery, Alabama. His father, Maurice Cecil Mackey, Sr., was secretary of the local musicians union and leader of a band that often played with Hank Williams. Cecil's mother, Annie Laurie (Kimrey) Mackey, was a state and federal civil service worker in Montgomery, Alabama for more than 30 years.
Cecil started college at age 16, attending Georgia Tech for a year. He then transferred to the University of Alabama where he received his B.A. and M.A. in economics. He earned his Ph.D. in economics from the University of Illinois, where he was also an assistant professor of economics from 1955-1956. Cecil received his law degree from the University of Alabama, while concurrently teaching as assistant professor of law from 1957-1958, and studied post-graduate law at Harvard University from 1958-1959. He then returned to the University of Alabama to be an assistant law professor from 1959-1962. As a proud alumnus, in 2009, Cecil established the M. Cecil Mackey Endowed Scholarship in the School of Law at The University of Alabama.
Cecil's military service included the Alabama National Guard; the U.S. Army; the U.S. Navy—receiving the "Outstanding Cadet" honor as the top airman in his Naval Air Flight class; and the U.S. Air Force. While on active duty with the U.S. Air Force in 1956-1957, Cecil developed the economics department and was associate professor at the United States Air Force Academy.
Cecil served several years with the U.S. federal government in Washington, D.C. during the Kennedy and Johnson administrations. In 1962, he was assistant counsel for the U.S. Senate Subcommittee on Antitrust and Monopoly chaired by Senator Estes Kefauver. In 1963, he became director of the Office of Policy Development for the Federal Aviation Agency (later called the Federal Aviation Administration). In 1965, Cecil was director of the Office of Transportation Policy for the U.S. Department of Commerce. In 1967, he helped establish the U.S. Department of Transportation and was named its first assistant secretary for policy development. Cecil received the Arthur S. Flemming Award in 1967, which honors outstanding men and women in the federal government.
After leaving federal government service, Cecil pursued a career in university administration.
In 1969, after a short stint as a visiting professor at the University of Maryland, he was selected as executive vice president and professor of law at Florida State University.
In 1971, he was chosen to be the second full-time president of the University of South Florida.
In 1976, Cecil moved to Lubbock, Texas to become president and professor of law at Texas Tech University.
From 1979-1985, he was president and professor of economics at Michigan State University.
In conjunction with his work as a university president, he served terms as president and director of the American Association of State Colleges and Universities.
From 1985 until the time of his death, Cecil remained a full-time economics professor at Michigan State University—teaching such courses as comparative economic systems, macroeconomics, and general business law. He also created innovative upper-level courses on specialty topics, including "Film and Law," "Film and War," and "Economics, Oil, and Islam."
In the late 1980s-early 1990s, for four consecutive years in the spring quarter, Cecil taught in the Michigan State University College of Business study abroad exchange program with Erasmus University in Rotterdam. In this assignment, he taught business law courses at the campus in the Netherlands and led a mid-quarter trip to Brussels and Paris in which students received briefings on current events at NATO HQ, visited the European Central Bank, attended sessions at Bourse de Paris (stock exchange), and were hosted at IBM Headquarters. These activities helped students learn about the newly-forming European Union from business, economic, and monetary perspectives, and prepared them for future employment.
For more than 30 years, Cecil consulted as a higher education specialist to the United Arab Emirates (UAE). Cecil was the principal advisor to Sheikh Nahayan Mabarak Al Nahayan, the UAE's Minister of Higher Education. Cecil was instrumental in building two universities—including the country's first women's university—and a system of technical colleges. He also advised the UAE on establishing the Ministry of Higher Education. Cecil supervised and actively participated in many international conferences and meetings in the UAE and is recognized as the person who attracted many renowned American academicians to the country. Cecil was a distinguished visiting professor at the UAE University for several semesters. He conducted economic research about the country and mentored many young researchers.
Cecil was a confirmed Methodist, a member of The Peoples Church in East Lansing, Michigan, and an affiliate member of Community Presbyterian Church in Deerfield Beach, Florida. He was admitted to the Alabama Bar in 1958 and maintained his membership until his death. He was a member of Phi Kappa Phi and Order of Artus (now Omicron Delta Epsilon) honor societies, as well as the Chi Alpha Phi service fraternity. Cecil was also a long-time member of Sigma Chi Fraternity, president of his chapter, and was awarded their highest honor, "Significant Sig," in 1979.
Cecil served on the Advisory Council of the National Science Foundation; was an associate on the National China Council; chairman of the board of directors of the Debt for Development Coalition; a member of the National Boating Safety Advisory Council; and a member of the Advisory Committee for the U.S. Coast Guard Academy.
Cecil was on boards of directors for several councils of the Boy Scouts of America, the United Fund, the United Way, and other charitable and service organizations in his communities. He served on the board of directors of Summit Holding Corporation in Lansing, Michigan; the board of directors of Community First Bank; and as a member of the Michigan Governor's Commission on Jobs and Economic Development.
Cecil also served alongside Clare on the National Leadership Council of the Michigan State University College of Music. A music aficionado, and his wife's biggest fan, in 2006, he helped her establish the Clare S. Mackey Endowed Fund in Voice at the Michigan State University College of Music.
We will remember Cecil as an avid runner and tennis player, an ardent music lover, and an enthusiastic Michigan State sports fan. He was a lifelong learner and educator who inspired and encouraged others to capitalize on the extraordinary opportunities the world presents.
Cecil is survived by his wife Clare, daughter Carol Shaffer (Edward) of Dallas, Texas, son John Mackey (Amy Perruso) of Honolulu, Hawaii, daughter Ann Kling (Michael) of Las Vegas, Nevada, and grandchildren Hannah, Albert, and Sophia Mackey, and Lauren and Katherine Kling. He was predeceased by daughter Jane.
Memorial services will be scheduled at a later date in Deerfield Beach, Fla. and East Lansing, Mich. Burial will be scheduled at a later date at Arlington National Cemetery.
The family requests that, in lieu of flowers, donations be made to either:

The M. Cecil Mackey Endowed Scholarship
in the School of Law at the University of Alabama

University of Alabama Office of Planned Giving
355 Rose Administration Building
Box 870123
Tuscaloosa AL 35487-0123

Make check payable to "University of Alabama"
and include "M. Cecil Mackey Endowed Scholarship
in the School of Law, 19479" on the memo line;
(888) 875-4438 or (205) 348-0999
Mention "M. Cecil Mackey Endowed Scholarship
in the School of Law, 19479

Michigan State University College of Music Pavilion Fund
University Development, University Advancement
Spartan Way
535 Chestnut Road - Room 300
East Lansing MI 48824

Make check payable to "Michigan State University"
and include "College of Music Pavilion Fund code: AE06923"
on the memo line;
(800) 232-4MSU or (517) 884-1000,
Mention "College of Music Pavilion Fund, AE06923"
enter "pavilion" in the search field.
Published in the Montgomery Advertiser on February 18, 2018.