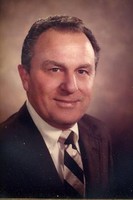 A graveside service will be held for Kirk A. Jordan, 87, formerly of Granville, at 1:30 P.M. Wednesday, August 27, 2014 at Maple Grove Cemetery in Granville with Msgr. Paul P. Enke as celebrant. Full military honors will be rendered by Licking County Veterans Alliance.
Kirk was born June 6, 1927 to the late Clarence and Ruth (Goleman) Jordan. He died Friday, August 22, 2014 at the Selma Markowitz Care Center, operated by Hospice of Central Ohio.
A native of Montgomery, Alabama, Kirk attended schools there and graduated from Auburn University, where he was President of Sigma Nu Fraternity. He served in the United States Marine Corps with duty in China. After college, Kirk was an officer in the U.S. Army with combat in Korea, receiving a Bronze Star with "V" device and an Oak Leaf Cluster, and five battle stars. He left the Army as a Captain after service in Germany. He was a Life Member of the Military Officers Association of America, a member of the Society of the Third Infantry Division and the American Legion.
Mr. Jordan formerly resided in Sarasota, Florida and lived in Granville over 30 years. Civic minded, Kirk was Past President of the Rotary Club of Granville and his golf community association, The Meadows. He was also a member of the Granville Public Library Board, the Ohio Society of Association Executives and a 37 year member at Moudbuilders Country Club. Kirk was affiliated with the independent oil and gas industry for 37 years, retiring as Executive Vice President of the Ohio Oil and Gas Association in Granville. He was inducted into its Hall of Fame in 1998.
Kirk will be remembered as a much loved "Poppy" who was a kind and compassionate, southern gentleman that loved his family and enjoyed getting to know people. He was a man of principal and good character that believed in fairness and tradition.
Surviving are his wife of 62 years, Norma (Lesley) Jordan; daughter and son-in-law, Elise and Jim MacPhee of Newark; son, John R. Jordan of Portland, OR; granddaughter, Katherine Swartz and husband Paul Swartz and granddaughter, Allison MacPhee, both of Newark; great grandchildren, Jordan and Jaxon Swartz; and sister, Eloise Taff of Montgomery, AL.
In addition to his parents, Kirk was preceded in death by his son, Kirk A. Jordan, Jr., who died in 1981 and brothers, Al and C.E. Jordan.
Express your condolences online.The family received friends Tuesday, August 26, 2014 from 5 to 7 P.M. at the McPeek-Hoekstra Funeral Home, 133 S. Prospect St., Granville.
Express your condolences online.
Contributions may be made in Kirk's honor to the:
Licking County Veterans Alliance
P.O. Box 854
Newark OH 43058-0854
Granville Public Library
217 E. Broadway
Granville OH 43023