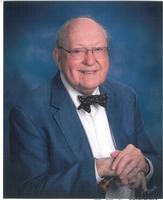 Renis O. Jones, Jr., 92, passed away on June 27, 2019.
Renis was born in Lake Worth, Florida on June 11, 1927, and the family later moved to Montgomery.
Visitation will be in the church parlor of First Baptist Church, Montgomery on July 1st at 10:00 AM and a celebration of his life will be held at 11:00 AM in Stakely Sanctuary.
Renis is survived by his four children, Renis Jones III, Noble Seay Jones and his wife Jeri, George Miles Jones and his wife, Marianna and daughter Martha Jones Carroll and her husband Bill. Grandchildren are Noble "Bo" Seay Jones, Jr., and Martha Kathryn "Katie" Jones, and Isabella Grace Martha Jones. One sister, JoAnne Jones DeLay, many cousins, nieces, and nephews. Renis was predeceased by his wife of 57 years, Martha Noble Seay Jones.
Renis was a graduate of Lanier High school where he was a notable athlete, lettered in several sports and was VP of the Senior Class. After Lanier, he served in the Navy during WWII. He was a graduate of Auburn University (API - Architecture and Sigma Nu Commander) and Jones Law School (Juris Doctor.) He was a founding partner of Pearson, Humphries and Jones Architects - PH&J and was elevated to Fellowship status by the American Institute of Architects. He served on the State Board of Architects for 21 years and served on the National Board of Architects NCARB. He earned his Commercial Pilot's License and enjoyed flying and traveling. He was active in many civic and social organizations and was a life-long faithful member of First Baptist Church Montgomery.
Honorary Pallbearers are members of the Poundstone Sunday Class.
Memorials may be made to

First Baptist Church Caring Center
305 S. Perry Street
Montgomery AL
The Seay Twins Art Gallery
at Huntingdon College
1500 E. Fairview Avenue
Montgomery AL
Flowers welcome.