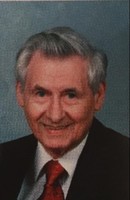 August 23, 1927 - January 6, 2016
Fred A. Duran, Jr., age 88 of Birmingham, Alabama, died on Wednesday, January 6, 2016. He was born in Birmingham, Alabama, and later moved to Montgomery where he graduated from Sidney Lanier High School. He was an Army Air Forces veteran of World War II and an Electrical Engineering graduate of Auburn University.
He was a long-standing member of First United Methodist Church of Birmingham where he served on the Administrative Board. He loved his Sunday school class, the Ecclesia Wingard class and was a faithful usher at the sanctuary services for many years. He warmly greeted everyone on Sunday mornings and made each person feel welcome as a part of the First Church family.
He was preceded in death by his wife of 46 years, Marilyn L. Duran, and is survived by two sons, Richard C. (Diana) and David F. (Katherine) Duran of the Chicago area, a daughter, Sheryl L. Duran of Norman, OK, and several grandchildren and great-grandchildren.
He had a long Sales and Marketing career in the Defense Electronics and Data Communications fields, primarily with the General Electric Company, of which he retired. He was an Amateur Radio Operator for more than 68 years, holding the call letters W4NKI, and earned many awards in the hobby.
He was a Life Member of the Armed Forces Communications and Electronics Association, American Radio Relay League, Auburn Alumni Association, Birmingham Amateur Radio Club, Eta Kappa Nu Association, Sigma Nu Fraternity and the National Rifle Association.
He enjoyed sports and was physically active most of his life in sports and exercise programs.
Visitation will be held from 5:00 to 7:00 p.m. on Thursday, January 7, 2016, at Ridout's Valley Chapel in Homewood. A funeral service will be held at 10:00 a.m. on Friday, January 8, 2016, at the funeral home. This will be followed by a brief graveside service and burial in the family plot in Greenwood Cemetery in Montgomery.
The family requests memorials to First United Methodist Church of Birmingham or your favorite charity/font>
Published in The Birmingham News from Jan 6 to Jan 8, 2016
- See more at: Fred A Duran