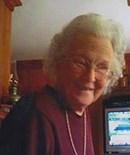 Melba Burge Thomas, age 90, was born on June 10, 1927, in Columbus, Georgia, to Elmer and Venus Burge. She passed away on Monday, October 23, 2017. She is preceded in death by her loving husband of 59 years, Bobby D. Thomas.
Melba graduated from Sidney Lanier High School in 1945, she went on to St. Margaret's School of Nursing where she earned her nursing degree in 1947. She enjoyed a career in Nursing for over forty years with the majority of those years serving the Montgomery community at Health Services Inc.
Melba is survived by her son, Paul D. Thomas and his wife Beverly; their children Rachel Thomas and Heath Thomas, his wife Brittany and their son Truitt; and her son, Lester A. Thomas and his wife Debi; their sons Jeff Thomas and his wife Emily and their daughters Julianna and Eleanor, and Blake Thomas and his wife Tiffany and their daughter Paloma.
The family will receive friends on Sunday, October 29th from 1:00 to 2:00 pm at Alabama Heritage Funeral Home. A celebration of Melba's Life will begin at 2:00 pm.
In lieu of flowers, donations may be made in honor of Melba to:
Montgomery Symphony Association
PO Box 1864
Montgomery AL 36102-1864

Montgomery First Seventh
Day Adventist Church
4233 Atlanta Highway
Montgomery AL 36109
Alabama Heritage Funeral Home, 10505 Atlanta Highway, Montgomery, AL 36117. (334) 215-0180
Published in the Montgomery Advertiser on October 27, 2017