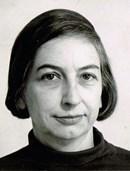 Joy Cogdell Steele, 91, of Iowa City passed away on December 20th, 2018 at Crestview Specialty Care in West Branch, Iowa.
Joy was born in Atlanta Georgia on January 17, 1927, daughter of Rexford Cogdell of Inverness, Alabama and Eleanor Elizabeth Cogdell (Black) of Luverne, Alabama. Joy graduated from Sidney Lanier High School, Montgomery, in 1944. She earned an A.B. degree from Huntingdon College in Montgomery in 1948 and an M.S. degree in English from Auburn University (then Alabama Polytechnic Institute) in 1950. After moving to Iowa 1967 with her husband, Oliver and her five children she continued her studies and eventually was awarded a Ph.D. in English from the University of Iowa. She became an instructor in that department, teaching evening and distance-learning classes for a number of years. She was especially proud of the work she did teaching literature to students in rural Iowa as part of the distance-learning program. Her particular field of study was 20th-century American literature.
As a mother, Joy was patient, kind, nurturing and funny. She encouraged arts and crafts and tirelessly found creative ways to educate and entertain her five children. Vacations were always a healthy balance of museums, monuments and historical places mixed in with beaches and mountain trails. Any excuse to be outside; camping, hiking, chasing butterflies, walking along seashores, she would take. She instilled in all of her children a life-long love of learning and deep respect for nature.
In retirement, Joy enjoyed spending time with her husband, Oliver. They were avid bird watchers, walking often at Kent State Park but from time to time would travel further to other states to see migrating birds. At home, they read mystery novels together and enjoyed visits from their children and grandchildren. A true child of the south she loved grits and okra and pecan pie (especially from the pecan tree in her mother's yard).
Joy and Oliver gave to many charities that focused on the natural world and social justice issues and for over 50 years Joy was a devoted parishioner of Trinity Episcopal Church in Iowa City.
Joy is survived by her children: Christopher (Monica) of Ely, MN, Mark (Janet Lilly) of Greensboro, NC, Eleanor of Iowa City, Andrew of Staatsburg, NY, and Paul (Anne) of Austin, TX. She is also survived by her beloved grandchildren: Emma, Jimmy, Elizabeth, Grace, Samuel, and Theo.
Joy was preceded in death by her husband Oliver, her brother James Cogdell of Luverne, Alabama and by her son in law Kirk Walther of Iowa City.
No services are planned at this time. In lieu of flowers, donations can be made to:

The Southern Poverty Law Center and The Audubon Society.
Online condolences may be sent to Lensing Funeral Home.
Published in the Press-Citizen on December 26, 2018