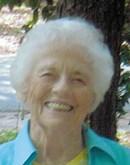 Mrs. Norma Jane Walls Eagerton, age 93, of Eastman, GA, died Friday, February 8, 2019, at Dodge County Hospital.
Mrs. Eagerton was native of Montgomery, AL, a 1943 graduate of Sidney Lanier High School, a dedicated member of Eastman First Baptist Church, and a faithful church worker. She was a homemaker and a loving wife and mother, always thinking about others and was a very selfless soul. She enjoyed playing bridge with her friends, reading, doing crafts, and writing poetry. She was full of love and extended it to many in her lifetime. She was the daughter of the late Addie Jane Spivey Walls and Charles Earle Walls, widow of Herbert B. Eagerton, Jr., and was preceded in death by her son, Sonny Eagerton.
Survivors: Daughter - Careen E. Fordham (Al) of Eastman; Chosen Children - Sophary Theng Burnet (Arthur), Jon Hourk (Katrucha), and Niki Coogler Artavia (Wagner); 2 Sisters - Nancy Bertha Walls Allen of Montgomery, Alabama and Edna Earle Walls Eagerton of Hope Hull, Alabama; Sister-in-Law - Carole Eagerton of Hope Hull, Alabama; Brother-in-Law - Warren Ward of Montgomery Alabama; Numerous Nieces and Nephews.
Funeral services will be held at 11:00 AM Tuesday, February 12, at Southerland Funeral Chapel, with Dr. Jerry Peele officiating, with interment in Orphans Cemetery. The family may be contacted at the residence of Careen and Al Fordham, 1104 7th Avenue, Eastman.
In lieu of flowers, the family requests contributions to:

Vince Taylor Scholarship Fund
5107 Oak Street
Eastman GA 31023
or to the charity of the donor's choice.
Stokes-Southerland Funeral Home of Eastman has charge of arrangements. www.stokes-southerland.com
Published in the Montgomery Advertiser on Feb. 12, 2019