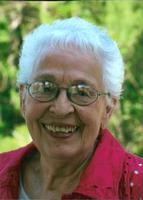 Jerrene (Jerry) Morgan Edwards was born August 27, 1925, in Pike County, Alabama. A longtime resident of Montgomery, Alabama, she passed away on October 27, 2019.
She is preceded in death by, her mother and father, Ruben R. Morgan and Laura D. Morgan, one brother, Ruben Morgan, Jr., and one sister Eilin M. Tindal.
She is survived by two daughters, Laura E. Davis(Wayne) Daphne, AL, Deborah McGough(Tommy), Mathews, AL, and one son, Bruce D. Edwards(Tammi) Georgianna, AL.; grandchildren, Cdr Jack E. Davis Ret., Laura D. Wiley, Ailee M. Hood, Payton M. Edwards, and Carrie M. McCaa; great-grandchildren, Phillip Davis, Marc Davis, Jacob Delaune, Will Delaune, and John Sasser; two step-granddaughters, Stevie Marie Castleberry and AnJoy Castleberry; niece, Patricia T. Davis, and nephew C. Lance Tindal; great niece Rachel Madore; great nephew Curt Tindal; and many cousins.
The family would like to thank Oak Grove Inn and Answered Prayers Home Care for their loving care. Memorial contributions may be made to Baptist Hospice or a charity of your choice.
https://www.dignitymemorial.com/obituaries/montgomery-al/jerry-edwards-8905100