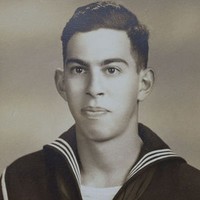 Ralph Loeb Jr., 88, passed away peacefully following a lengthy illness November 27th at his home in Austin with his loving wife, Ellen, at his bedside.
Ralph was born June 1, 1925 in Montgomery, Alabama, the son of Ralph and Rebecca Loeb. Three days after graduating in 1943 from Sidney Lanier High School he enlisted in the U.S. Navy eager to serve his country and was trained as an electrician's mate. At the end of the war, Ralph and his shipmates surveyed the ruins of Nagasaki on foot before heading home on the USS Hanson, grateful that the war had ended before they had to invade Japan. He was discharged from the Navy in May, 1946 and enrolled at the University of Alabama to study electrical engineering where he met Ellen Green of Bessemer, Alabama on a blind date. Ralph graduated with a degree in electrical engineering on the anniversary of D-Day in 1950. After a one-year courtship, Ellen and Ralph were married on January 7, 1951 and soon filled their household with two energetic baby girls, Sharon and Janis.
Ralph's career path culminated in the position of chief electrical engineer for the Montgomery architecture / engineering firm of Sherlock, Smith and Adams, a 35-year career spanning from the slide rule era to the computer age. He was deeply involved in hospital electrical system design, a job that saw him work on military hospital projects worldwide. Ralph had a special rapport with the employees who worked under him, who considered him an outstanding supervisor and close friend for life. He served as a national chairman of the National Fire Protection Association's Committee on Essential Electrical Systems and many other NFPA positions. Later he was honored with the Outstanding Fellow Award for Electrical Engineering from the University of Alabama for which he was most proud.
Ralph was deeply involved in many community activities. He grew up a member of Temple Beth Or in Montgomery and served on the board and several volunteer positions in the congregation. He was especially active in the Family Sunshine Center's activities for abused women and children and received its Golden Heart Award and Volunteer of the Year award along with Ellen. One activity Ellen and Ralph were especially proud of was serving as co-presidents of One Montgomery, a bi-racial community group dedicated to supporting racial equality in the South; another was their recognition by the Montgomery Area Council on Aging as Seniors of Achievement.
Ralph and Ellen avidly followed University of Alabama football from the Bear Bryant era to today's national championship teams. They were long-time season ticket holders and enjoyed many trips to games in Tuscaloosa and Birmingham.
Upon his retirement in 1990, Ralph and Ellen traversed the globe with trips to Nepal, China, India, Europe, South America and the Middle East. They also made numerous trips to California, where they especially enjoyed the High Sierra Loop in Yosemite National Park. He also enjoyed more time for tennis and hiking closer to home. In 2002 they moved to Austin, Texas to be closer to their extended family with growing grandchildren and joining the Jewish community at Temple Beth Shalom.
Those left to cherish his memory include his wife of 62 years, Ellen; daughter Sharon Shackelford and husband Gil of San Jose, CA and daughter Janis Daemmrich and husband Bob of Austin; grandchildren Alison Hewitt and husband Heath of Los Angeles, Amy Shackelford of San Jose, Graham Shackelford of Tacoma, WA, Chris Daemmrich of New Orleans, and Robin Daemmrich of Austin; niece Judy Batlan Clack of Austin, and nephews Bob Batlan and wife Mary Lou of Austin and David Batlan and wife Janet of Gaithersburg MA; and many cousins, great-nephews, and friends old and new.
Special thanks to caregivers Joan Gray and Robert Chongwe for their patience and devotion during Ralph's difficult final months.
A Memorial Service will be held Friday, November 29, at 11 a.m. in the Garden Room at The Summit at Westlake Hills, 1034 Liberty Park Drive. Memorial contributions can be made to Temple Beth Or, or the Family Sunshine Center, both of Montgomery.
Published in Austin American-Statesman from Nov. 29 to Nov. 30, 2013.